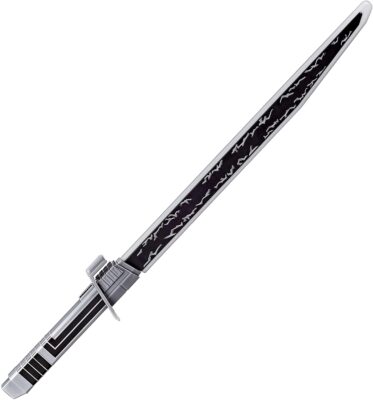 May the Fourth be With You! Click here for Star Wars Deals on Amazon! Enter the world of Star Wars and launch into action and adventure! Discover a galaxy of starships and vehicles, get immersed in exciting stories of good versus evil against a backdrop of a galaxy populated by heroes, villains, droids, and space creatures. With the Star Wars animated series-inspired Mandalorian Darksaber Lightsaber electronic roleplay toy, kids can imagine battling in epic Lightsaber duels in a galaxy far, far away! Get the Star Wars Mandalorian Darksaber Lightsaber Toy with Electronic Lights and Sounds, Star Wars: The Clone Wars for Kids Roleplay Ages 5 and Up for only $21.99 today!
MANDALORIAN DARKSABER: In the Star Wars saga, this one-of-a-kind black-bladed Lightsaber has been a symbol of Mandalorian power for generations, and has been wielded by some of Mandalore's greatest warriors

ELECTRONIC LIGHTSABER WITH SOUND FX: Featuring exciting electronic sound FX inspired by the Star Wars: The Clone Wars animated series, boys and girls ages 5 and up can imagine battling in epic Lightsaber duels with the Mandalorian Darksaber Lightsaber role play toy

ELECTRONIC BATTLE AND LIGHTNING EFFECTS: Swing the Mandalorian Darksaber Lightsaber toy for awesome battle FX or hold down the button on the hilt to imagine summoning the power of lightning with lightning FX

LOOK FOR OTHER STAR WARS ROLEPLAY ITEMS: Fans can look out for more Star Wars roleplay items like Lightsabers and additional masks to create a Star Wars galaxy (Each sold separately. Subject to availability.)
This post contains affiliate links.