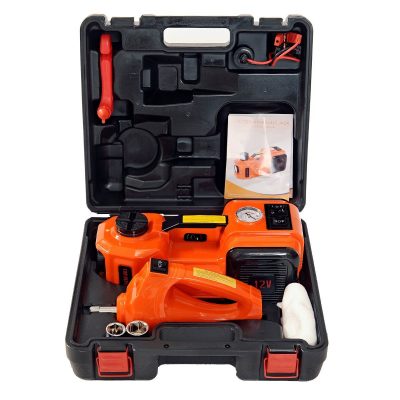 This electric car jack is a 'design masterpiece' that efficiently & reliably delivers 'fast change tire' when you need it the most, so you can get back quickly to the joy of your drive. Click here to check out the MarchInn Automotive Repair Toolkit, only $131.99 today! MarchInn has its own highly experienced in-house design team who create arguably one of the most beautiful & best-performing tire tools in the market. You'll be saving 47% off the regular price!
POWERFUL: Work with 12V vehicle power outlet,5.0T(11000lb) jack capacity and 340N.M powerful torque.

EFFICIENT: Lift the car in less than a minute by the jack, remove the screws by the wrench, change a tire quickly, perfect tire jack.

CONVENIENT: The design of the jack is succinct and easy to operate with compact and organized storage box.

MUTILFUCTION: Jack, pump, wrench and can meet multiple demands. Essential tool for outdoor emergency.

SAFE: The structure is stable and secure. Machine will stop working when it lifts beyond the height limit.
This post contains affiliate links.