Let's just put this out there—I am not crafty. Pinterest gives me panic attacks and feelings of inadequacy, so you can imagine my surprise (at myself) when I (voluntarily) chose to make my own wreath this holiday season. What the WHAT? A homemade wreath. How hard can that be, right? Well…right! This coat hanger rag wreath was easy and under $10. Doesn't get any better than that. Unless of course someone makes a wreath FOR you. That would be easier and cheaper, but that's another blog for another day.
How to make a wreath for under $10.

Materials needed:
One wire coat hanger = Free!
1 yard of fabric = $6.96. (I used ¾ yard of gray flannel and 1/4 yard red flannel that I found in the remnants section of a local fabric store for $3 /yard. If you have scraps at home, this project would be even cheaper! Feel free to mix/match fabrics and textures.) 
Scissors = I'm guessing you already own some, so free!
Pliers = same as above
Instructions: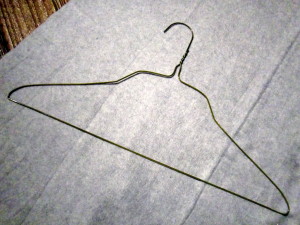 1. Using pliers, straighten out a wire hanger.  Once it is straight, use the pliers to bend it into a circle. Hook the ends together at the top. For a built in hanging hook, simply leave the hanger's hook in place (I didn't like the look of this, so I opted to straighten the whole hanger).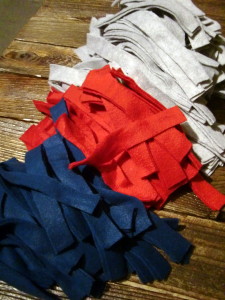 2. Cut fabric into strips, 7-8 inches long and 1 inch wide. I tended to be very lax with these measurements, so the wreath had a "messier" look. (I ended up not using the blue–I will after Christmas, for a New Year's wreath.)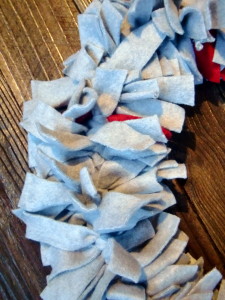 3. Tie the strips around the wire hanger. I tied on all of my gray strips first, and then added "splashes" of red randomly. Another approach is to alternate strips of fabric by tying on two solid strips and then one patterned strip.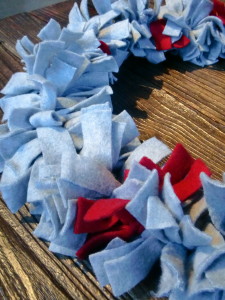 4. As you get closer to the end, continue to push the strips together and squeeze in those last few strips. The tighter you push them together, the fuller your wreath will be.
5. Tie that last strip and proudly display your homemade coat hanger rag wreath! You are done!
Want more ideas? Check out these 7 frugal and fast Christmas decorations!
What is something you make every holiday season?