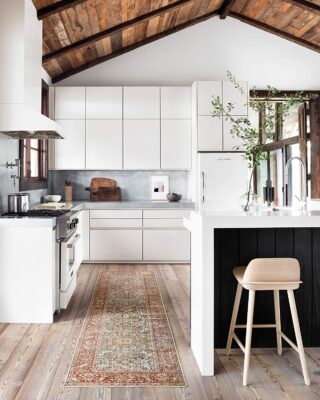 Walk all over it.
With striking colors, beautiful designs, and an old-world appeal, Layla offers an instant style upgrade. Thanks to a low pile and durable printed construction, Layla can withstand any foot traffic. Plus, it's stain-resistant, colorfast, and won't ever shed. Right now, you can score this Loloi II Layla Collection Area Rugs, 2′-6″ x 9′-6″, OCEAN/RUST for only $50. That's the best price on record.
Polypropylene

Dimensions: 2′-6″ x 9′-6″

These printed designs are recreated from one of a kind rugs. Enjoy the look of an ancient rug at an affordable price with low maintenance & high traffic materials.

This oriental power-loomed rug is crafted in China of 100% polyester.

Offering a and sophisticated color palette and subtle patina.

Rug pad not included but highly recommended. Please purchase padding for added comfort, rug longevity and floor protection

The Layla Collection is traditional and timeless with a beautiful Printed lived-in design that captures the spirit of an old-world rug

Clean spills immediately by blotting with a clean sponge or cloth. Professional cleaning recommended. Rug pad recommended for use on hard floor. For vacuuming, use a vacuum cleaner without a beater bar or one where you can set the bar to the highest pile setting. If your vacuum has variable power settings, set on low. Vacuum full length of the rug, turn and repeat to the next area, rather than back and forth motion.
Remember, Amazon prices can change at any time.
This post contains affiliate links.