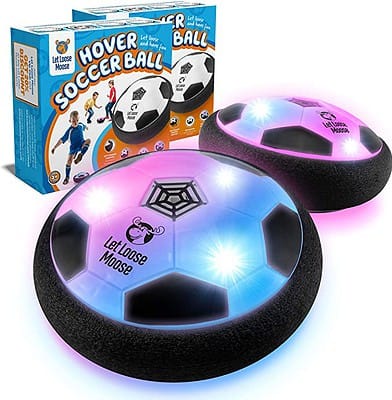 My son gives this toy his stamp of approval!
Hours of playtime with 4 AA batteries (not included). Our light-up soccer balls hover on a cushion of air that makes them glide and rebound with ease. Contoured foam protects feet, furniture, and internal components. Get the LLMoose Hover Soccer Ball – 2 Pack – Toys for Boys 4-6 – Gifts For Boys 8-12 – Birthday Gifts For Kids- Kids Toys – Stuff For Kids – Toys For Boys Age 8-12 – Toys For Kids – Indoor Games for Kids, only $22.07.
100% Foam

Ideal for dark and Low Light Rooms

INDOOR FUN – Keep your little ones off the couch and on the move with this engaging hover soccer ball. Perfect for children, teens, and adults alike, this floating ball toy can turn any rainy day into an active day of play!

SAFETY FIRST – This smart soccer toy has soft foam bumpers playing defense to protect internal components, furniture, and little feet on the move. Perfect for barefoot play or with shoes on.

EASY GLIDING – This indoor and outdoor LED soccer ball hovers over the ground for smooth gliding on hardwood, tile, asphalt, and short carpeting. Great for outdoor play, but ideal for indoor fun this season.

2-IN-1 – Get a kick out of not 1, but 2 soccer toys equipped with flashing LED lights, ideal for dark or low-light rooms (Note: batteries not included).

PERFECT HOLIDAY PRESENT – The MVP of soccer gifts for boys and girls everywhere, this smart soccer ball is the ultimate Christmas gift for any sporty students or football fans to get playing this season!
This post contains affiliate links.