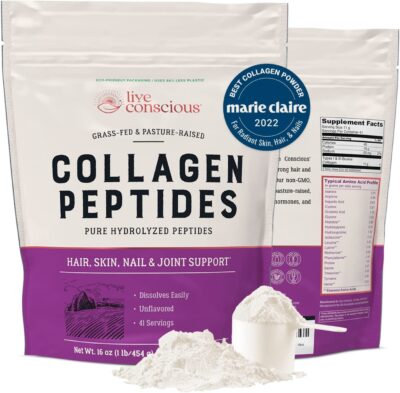 Click here to save on LiveConscious Collagen Magnesium and more supplements!
The recommended dosage for Live Conscious Collagen Peptides is 11 grams (about 2 ½ teaspoons). A scoop is included in the bag to help you measure the right amount. Many people start to see results within 30-90 days, sometimes sooner. As with most supplements, results are dependent on consistency. Get this Collagen Peptides Powder – Hair, Skin, Nail, and Joint Support – Type I & III Grass-Fed Collagen Powder for Women and Men – Naturally-Sourced Hydrolyzed Collagen Powder – 41 Servings – 16oz for only $24.49. 
Replenish Your Skin, Hair, and Nails — Collagen peptides can help revitalize skin, strengthen hair, and renew nails.* These benefits contribute to a more youthful appearance you'll love.*

Rejuvenating Power — When you look healthier, you take years off your appearance.*

Natural Taste — While some customers take no notice, since everyone's palate is different, the Live Conscious Collagen Peptides naturally-sourced formula may have a mild taste that you would most prefer adding to your favorite smoothie.

Premium Ingredients — For the best results, you need the best ingredients. LiveConscious labs uses hydrolyzed collagen peptides from bovine sources certified as grass-fed and pasture-raised.

100% Satisfaction Guarantee — Your satisfaction is our top priority, and we are committed to providing 100% satisfaction to all our customers. That's why we offer only genuine, high-quality products. However, if you are unsatisfied with the quality of our product, feel free to contact us — We are happy to help you in every possible way!
This post contains affiliate links.