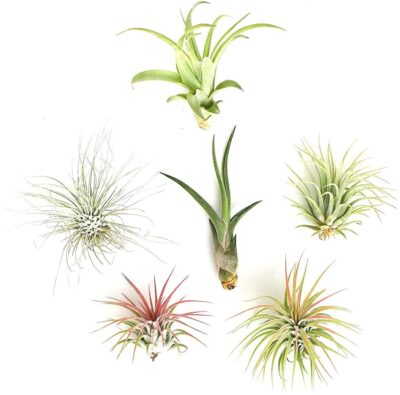 Air Plants are striking tropical plants capable of absorbing water and nutrients through their leaves. Tillandsias are possibly the most exotic, and enjoyable plants in existence. They flourish in vertical spaces and can be attached to nearly anything. They exist in a variety of shades, colors, and sizes and are among the most carefree plants on earth. Shop Succulents stocks over 50 distinct species enabling us to provide a thrilling variety in each order. Get the Shop Succulents | Live Air Plants Hand Selected Assorted Variety of Species, Tropical Houseplants for Home Décor and DIY Terrariums, 6-Pack for only $12.99. There are many other succulents on sale today, click here for the whole selection.
INCLUDED IN PURCHASE | (6) Live Assorted Air Plants, Hand Selected. Each plant may vary from pictures shown as plants are hand selected based on season, size, and readiness

WATERING NEEDS | Spritz air plants with water every 1-2 days. OR fill bowl with water and float air plants in the water for 20-60 mins every week. Turn upside down so excess water can drain away.

FERTILIZING NEEDS | Use an air plant-specific fertilizer or a bromeliad fertilizer a few times a year. OR – use a regular, water soluble houseplant fertilizer at 1/4 of the recommended strength.

SOIL | SUN | POTTING | Air plants absorb moisture through their leaves. No soil needed. Simply place inside the decorative container or arrangement. Indirect sunlight – too much and they will fry.

CUSTOMER ASSURANCE | We strive to provide the highest quality plants delivered. If plants arrive damaged or unhealthy, we will issue a full refund or replace your plant.
This post contains affiliate links. 00