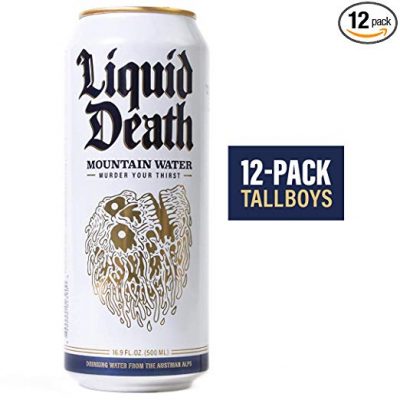 These infinitely recyclable cans of stone-cold mountain water came straight from the Alps to murder your thirst.
Liquid Death's proprietary Thirst Murdering process begins by forming a rope of veins that will wrap around your Thirst's head and strangle it. Once Liquid Death reaches your Thirst's brain, all of your Thirst's memories will be replaced with repeating loops of its own head imploding. Which is exactly what happens next by it causing your Thirst's head to implode and its brain to squirt out of its ears. Today only, get the 12 pack of Liquid Death Mountain Water, 16.9 oz Tallboys for only $17.59.
100% Mountain Water (Non-Carbonated)

Sourced and bottled in the Alps

7.6+ PH

Cans made with 20x more recycled material than plastic bottles

#DeathToPlastic
This post contains affiliate links.