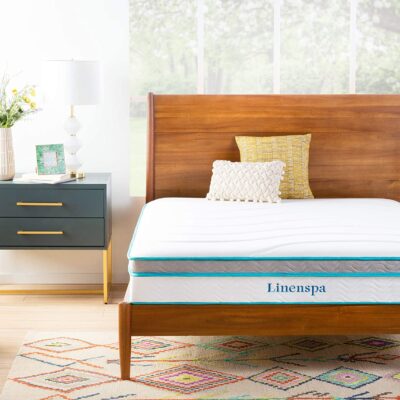 Not too soft and not too firm, this mattress falls right into the sweet spot of perfectly comfortable for sleepers of all styles and preferences. A thick layer of memory foam is quilted into the cozy knit cover to provide a cocoon of comfort that will lull you to sleep. Memory foam conforms to your body to align the spine for comfort that leaves you rested and pain-free. Under another couple layers of foam, a base made up of 6 inches of high-quality springs provides the support you need. Order this medium-feel mattress and it will be shipped right to your door. Mattress comes compressed and rolled in a box for hassle-free delivery and setup; all you have to do is unroll it and enjoy the comfort of the LINENSPA 10 Inch Memory Foam Hybrid Mattress. Today only, get the Linenspa 10 Inch Memory Foam and Innerspring Hybrid Mattress – Medium Feel – Twin $111.99. 
10 inch hybrid combines the traditional support of an innerspring mattress with the plush comfort of hypallergenic memory foam for a medium feel

A thick layer of memory foam conforms to your curves to help eliminate pressure points and increase comfort

Compressed and shipped in a box for convenient delivery and setup, this universally comfortable mattress makes relaxing easy

Available in a medium firm 8 inch profile, a medium 10 inch profile, or a plush 12 inch profile that also features gel infusions and individually encased coils

Packaging process may leave small brown flecks called carbons in the mattress packaging; These carbons are harmless pieces of plastic and will not stick to your mattress; 10 year limited warranty
This post contains affiliate links.