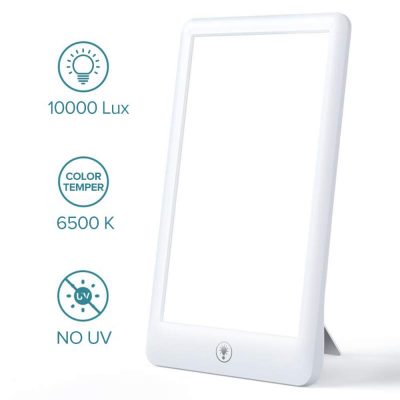 Light Therapy can harmonize the body clock, synchronize sleep patterns and allow users to cope with seasonal affective disorder better. Reviews speak for themselves and this Light Therapy Lamp by Sakobs is a bargain at only $22.98 today!
UV-Free 10000 Lux for Light Therapy: Features the same 6500K color temperature of natural sunlight to help fight winter blues, jet lag, shift work or seasonal changes and boost energy

3 Brightness Settings: 3-level brightness (6000 Lux, 10000 Lux, 32000 Lux) is adjustable as per your personal preference and environment; superior comfort, super easy, handy and useful in satisfying all your needs in pursuit of sufficient light

Energy-Efficient & Durable LEDs: The 78 LEDs deliver the full brightness at only 12W; last up to 100,000H for long-term use

Compact & Wide-Surface Design: Foldable bracket makes it easy to store and carry; offers more light and enables freedom of movement for the user by the tablet design

Easy to Use: Tap the Power Button once to turn on the lamp. Keep tapping it to adjust the light brightness between low / medium / high levels or to turn off the lamp
This post contains affiliate links.