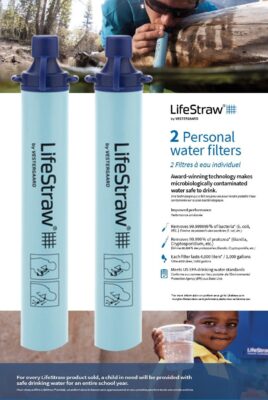 I've heard these are great for survival/hiking and emergency use! Click here to save on LifeStraw today only. 
ADVANCED WATER FILTRATION. Protects against 99.999999% of bacteria (including E.coli, Salmonella), 99.999% of parasites (including Giardia and Cryptosporidium), 99.999% of microplastics, as well as sand, dirt, and cloudiness

THOUGHTFUL AND SUSTAINABLE DESIGN. Ultralight and durable, the LifeStraw weighs less than 2 ounces so you can pack it anywhere without the need for electrical power, batteries, or replacement parts

MADE TO LAST. Long-lasting membrane microfilter will last up to 4,000 liters of water (that's enough drinking water for an individual for over 5 years). The flow rate is 3 liters per minute by suction

RIGOROUSLY TESTED. Meets US EPA & NSF P231 standards for the removal of bacteria and parasites; BPA-free, chemical free

YOUR PURCHASE HAS IMPACT. Your purchase has impact: one purchase, one child, one year of safe water
This post contains affiliate links.