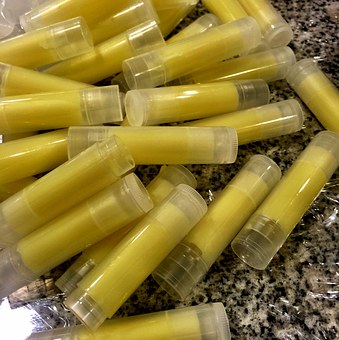 This time two years ago I had buckets of lip products. I couldn't decide if I wanted an expensive organic blend or a cheap drugstore off-brand. I knew that I wanted to have a lip product always at hand, and because I was shopping so frequently, I found plenty opportunities to toss a new tube in the cart.  Still, I was constantly losing them and my lips always felt dry. No one likes the feeling of dry lips, am I right? So I would continue to collect them sticking them here and there stashing them in the glove compartment, my purse, my makeup bag, or a kitchen drawer. Eventually they would get lost or sticky at the bottom of my purse, left at a bathroom counter, or run through the washing machine. More often they would simply get old and expire while still taking up space at the bottom of the drawer.
But then came minimalism. Then came my opportunity to change the direction I was going. Then came Joshua Becker, Allie Casazza, and countless books, vloggers, and pinterest tutorials. After clearing out carloads of donations, and going through every shelf, cabinet, closet and drawer we started to create a new lifestyle. We cleaned, eliminated doubles, pared down and ruthlessly purged. Through that process, all the mediocre clearance lip sticks and the expired and sticky jars of balm were thrown away. And from that point on, I kept two tubes of lip balm. One is for my purse so that I will always have it when away from home. The other lives in my makeup bag in my bathroom. I have not once misplaced these two. It's so easy to keep track when everything is simplified!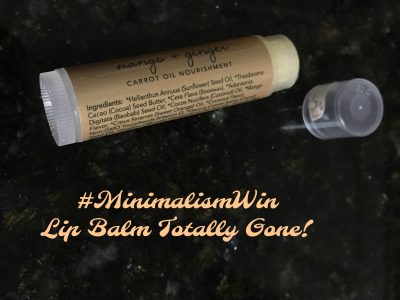 The reason I am excited is that I just realized that I've used up one of those two lip balms. That's right, it's all used up down to the very bottom! Even though I had dozens and dozens of lip products over the last 25 years, I truly don't remember ever using a lip product to it's core. Is it possible that I never did exhaust one completely? What a waste!
So this used, empty lip balm is symbolic to me of the change we've made, a change that has been worth the work. Minimalism means less forgotten and less wasted. Less frustrating time fruitlessly searching for items that may not ever be found. I feel so much better about this life of less. And it has given me time and space that I didn't realize I could have. Minimalist changes have saved me money, space, time and energy. Life is better this way. Life is better with just enough.

What has minimalism done for you?