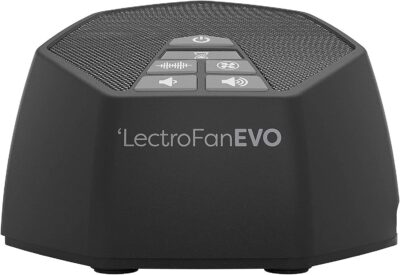 Save 50% on the LectroFan EVO Guaranteed Non-Looping Sleep Sound Machine in Charcoal! Click here to get it for just $29.96.
[Masks Noise] Helps block out disruptive environmental noises. It can help improve sleep, focus, privacy, and relaxation. It can be used to create a peaceful sleeping environment, a disturbance-free work area, or to reduce the distracting effects of outside noises for a more relaxing environment. Helpful for any age at any time of day.

[22 Non-Looping Sounds] A total of 22 unique non-looping sounds. 10 fan sounds, 10 white noise variations (including pink and brown noise), and 2 ocean surf sounds.

[After Sale Service] Buy our products with confidence as they are designed in the USA & backed by a fantastic customer care team also in the USA. 1-year limited warranty.

[Easy to Use] Easy to press buttons on the top of the machine where it is easy to reach. The Evo remembers the previously selected volume and sound for future use.

[Optional Timer] Use the timer or play all night. The timer gradually turns off after 1-8 hours, depending on your timer selection.
Remember, Amazon prices can change at any time.
This post contains affiliate links.