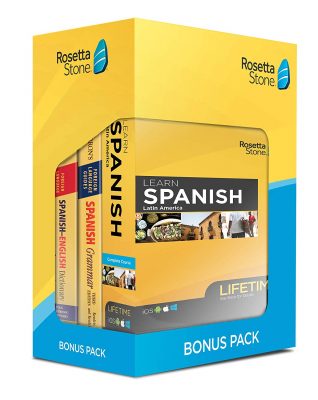 Get Rosetta Stone in one of five different languages: German, Spanish, Italian, English, or French! Each Rosetta Stone Bonus Pack Bundle includes Lifetime Online Access + Grammar Guide and Dictionary Book Set for only $159 today. With Rosetta Stone's proven methodology, dynamic curriculum, advanced speech recognition, and access to native-speaking tutors, you'll be learning to speak the language authentically from the very first lesson.
Everything you need to learn Spanish in one box!

Rosetta Stone lifetime subscription- access our award-winning program from the cloud. It syncs across desktop, mobile, and tablet for convenient learning

Barron's grammar Guide- learn essential grammar tips, such as verb agreements and sentence structure

Barron's Dictionary- look up important definitions from this trusted source

Lifetime of the Product — This "Lifetime" product will be supported for its life, meaning as long as Rosetta Stone makes the product available. A lifetime subscription is for an individual user and cannot be transferred to another person
This post contains affiliate links.