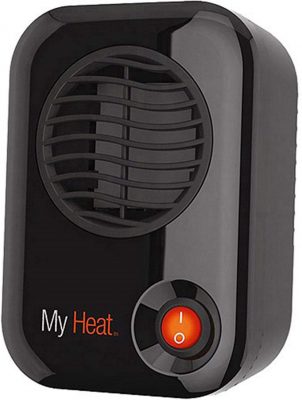 Stay warm this winter with the Lasko 100 MyHeat Personal Ceramic Heater for only $9.97. That's the lowest price ever!
KEEPS YOU WARM AT WORK – At 200-Watts and 682 BTUs, this low wattage mini space heater is ideal for use under the desk to keep your feet and legs warm. Best of all, because it's low wattage, it won't keep tripping the office circuit breaker every time you turn it on.

YOUR PERSONAL SPACE HEATER – At 6 inches tall with a 4" x 4" footprint, this cute, small electric heater takes up minimal desktop space and is intended to heat up your immediate space at home or the office. Designed to warm you, not a large room. For that, we recommend getting a Lasko 1500-Watt tower heater.

EASY TO USE – No assembly required. Simply take it out of the box and plug it in to a standard 120v wall outlet. This energy-efficient, indoor ceramic heater draws about 2 amps and turns on with a flip of a switch. Compact and portable, MyHeat comes with a 6-foot cord and a 2-pronged plug. It's also easily stored when not in use.

YEAR ROUND USE – Tired of always being cold at work in the winter? Is your cube right under the AC vent in the summer? If this sounds familiar, then this little heater is just what you need to keep you comfortable year-round. Produces a quiet, white noise that won't disrupt your co-workers. MyHeat is available in 4 fun colors (black, white, blue, and purple) and makes for a great gift.

TRUSTED FOR GENERATIONS – Lasko has been making quality products for over 100 years. MyHeat is ETL Listed and comes with Automatic Overheat Protection. The on/off switch lights up to let you know the unit is on. The self-regulating, safe ceramic heating element keeps the exterior cool to the touch – taking the worry out of using the heater for long periods of time.

Lower power useage saves on your energy bill and helps to elimanate tripping the circuit breaker if multiple heaters are used in an office setting.
Remember, Amazon prices can change at any time.
This post contains affiliate links.