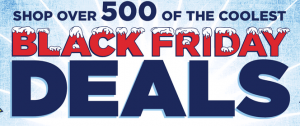 Use this Kohl's coupon for Black Friday
 to get an extra 15% OFF. Shipping is free if you spend $50 or more. Valid now through Nov. 29, 2014. Plug in coupon code THANKS15.
Find more Black Friday coupons and deals here.
Shop Mr. Potato head toys 50% off
Shop Kitchen Aid mixers with a $50 MIR and extra 10% off
$15 rechargeable Bluetooth speakers
Dyson DC40 Origin bagless vacuum is $299 (reg. $449)
$19 boots for women and juniors (reg. $59-$69)
Get an extra 20% off fine and silver jewelry that is already marked down 55-60% off
Big discounts on watches, pajamas, outerwear, luggage, cookware sets and lots more!
Why deal with crowds? Shop online now!