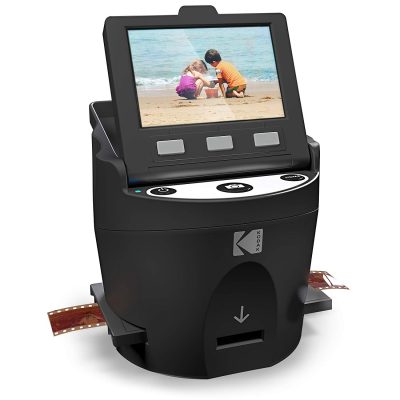 Want to experience old memories without the pricy cost of conversion?
With the Digital Film Scanner from Kodak, reliving the past is as simple as scan, save and share.This versatile film-to-JPEG converter digitizes and optimizes a variety of antiquated films including 35mm, 126, 110, Super 8 and 8mm negatives, enabling you to transfer images to any Mac or PC device for saving, sharing, printing and editing. Our all-in-one package comes ready with everything you need to start scanning: various film adapters and inserts, a built-in LCD color display, an exceptionally easy operational interface as well as multiple cables for device hookup. Don't settle for less than superior image quality. Trust the giant of digital innovation. Click here to snag the KODAK SCANZA Digital Film & Slide Scanner for only $119.99 today. 
FILM TO JPEG IN SECONDS – Powerful 14/22MP KODAK Film Scanner Converts Old 35mm, 126, 110, Super 8 & 8mm Negatives & Slides to JPEG Digital Files – NOTE; THE SCANZA WILL NOT CONVERT FILMS OTHER THEN 35mm, 126, 110, Super 8 & 8mm Negatives

LARGE, BRIGHT 3.5" TFT LCD – High Definition Built-In Color Display Features Adjustable Brightness & Convenient Tilt for Easy Operation & Image Viewing

AN ADAPTER FOR EVERYTHING – Unit Arrives w/Multiple Film Inserts & Adapters for Fast, Flexible Operation; Big One-Touch Buttons Allow for One-Step Scan & Save

INTUITIVE USER INTERFACE – Includes Helpful Tray & Insert Directory; Easily Edit Image RGB & Resolution, Browse Gallery [SD Card NOT Included, supports up to 128GB] & More

CABLES & EXTRAS INCLUDED – Mac & PC Compatible Converter Comes w/USB Power Cable, HDMI Cable, AC Adapter, Video Cable & FREE Film Cleaning Brush. Use the included brush to also clean the light box of dust and speckles, to avoid marks on the scanned images.
This post contains affiliate links.