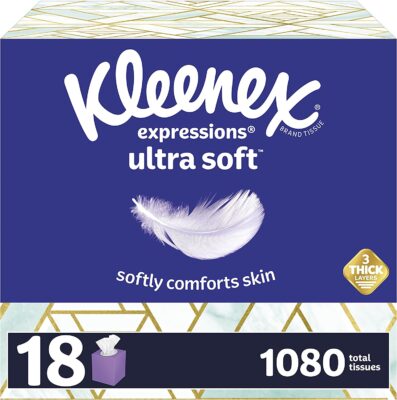 Tissues may be soft, but there's only one Kleenex Expressions Ultra Soft—we're talking about unbeatable softness*, a perfect balance of softness and strength that's three-layers strong and designed to shield sneezes. Whether you need designated car tissues or a classroom tissue box, with Kleenex Expressions Ultra Soft, you get 18 cube boxes of 60 tissues, so you have plenty of tissue paper to accompany your toilet tissues and paper and plastic household supplies. Designed for runny noses and watery eyes, our lotion-free and dye-free tissues have no added fragrance and feature soft, strong and absorbent care for face and hands. Plus, you can find a tissue box that fits your home because each tissue box is available in various colors and designs. 100% of our pulp is from responsibly managed forests. Get the Kleenex Expressions Ultra Soft Facial Tissues, Soft Facial Tissue, 18 Cube Boxes, 60 Tissues per Box, 3-Ply (1,080 Total Tissues) for only $28.99.
18 cube boxes of Kleenex Expressions Ultra Soft, each box containing 60 tissues—packaging may vary from what is shown.

America's #1 preferred Ultra Tissue (vs Ultra national brands).

20% stronger—now stronger with 3 thick layers to help protect hands.

Each tissue box's design can fit your home—contains various colors and designs.

Skip the store and get Kleenex Expressions Ultra Soft delivered.
Remember, Amazon prices can change at any time.
This post contains affiliate links.