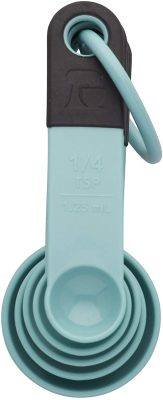 Food may feed to the body, but making feeds the soul. And that feeds us. It's why we make everything from cutlery, to coffee makers, to cooktops. A world of products with a single purpose: to make sure you get the most out of making. So whether you cook, bake, brew, or blend, anything you want to do in the kitchen, you can do with KitchenAid. Get the KitchenAid KE057OHAQA Classic Measuring Spoons, Set of 5, Aqua Sky/Black for only $3.97 for a limited time!
Set of 5 Measuring Spoons: This Measuring Set Includes 5 Different Spoon Sizes, 1 Tablespoon (15mL), 1/2 Tablespoon (7. 4mL), 1 Teaspoon (5mL), 1/2 Teaspoon (2. 5mL), and 1/4 Teaspoon (1. 25mL).

Durable Measuring Spoons: These measuring spoons work with both wet and dry ingredients. Crafted from durable, BPA-Free plastic, each spoon has its size printed in easy to read letters on its handle in both standard and metric units. Each spoon contains a matte exterior with a gloss interior, as well as a black soft grip containing the Stand Mixer icon.

Organized Storage: The Measuring Spoons Nest Within Each Other and Are Held Together with a Thick Plastic Ring to Secure Easy Organization and Storage.

DISHWASHER SAFE: These measuring spoons are dishwasher safe, making clean up quick and easy. Placing in the top rack of dishwasher is recommended

Lifetime Limited Included: These Measuring Spoons Comes with a 1-Year Hassle-Free Replacement and Lifetime Limited
Remember, Amazon prices can change at any time.
This post contains affiliate links.