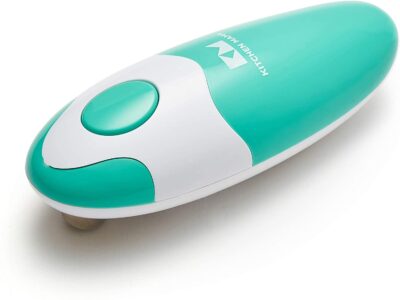 It began as a family effort to help make life easier for Mama Ola, because she was having hard time in the kitchen with her arthritic hands. After brainstorming through many ideas such as ergonomic cutting boards and Star-Trek style utensils, we settled on a cordless electric can opener because that was the most difficult task for her. Designed to relieve unnecessary strain and provide convenience during meal preparation, the Kitchen Mama electric can opener makes opening tins as easy as 1, 2, 3. Click here to snag the Kitchen Mama Electric Can Opener, only $23.99. 
【The last electric can opener you'll need】The Kitchen Mama automatic can opener is the best hands-free can opening solution for you! 4 AA batteries make it work like a charm! **Batteries not included**

【Easy operation】Two taps to open any cans with our electric can opener. Push the button to turn it on. It cuts cans 360° along the lid. Push the button again to stop — EASY!

【Safety design】The blade cuts along the side of the lid without touching the food inside. Leave no sharp cuts. — SUPER SAFE!

【User-friendly, ergonomic design】A great help for people with challenges gripping, best friend for elderly suffering from arthritis problem.

【Enjoy the best cooking experience】Your hands deserve to be treated like royalty! No effort. No injury. Save your energy. Save time. 𝗬𝗘𝗦 𝗬𝗢𝗨 𝗖𝗔𝗡.
This post contains affiliate links.