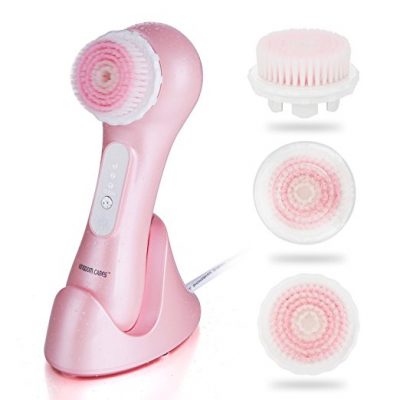 Today only, save 76% on this electronic facial brush from KingdomCares! Click here and snag a KingdomCares facial cleansing brush for yourself at only $23.99! Choose from four different colors, all with fantastic customer reviews.
Double Ultrasonic Vibration Technology Face Brush:


The ultrasonic facial brush takes a gentler and softer cleansing function to convey double vibration to the depth of skin and achieve the effect of deep cleansing.The professional exfoliator can lift skin and clear up the skin contour, improve lymph circulation, enhance skin elasticity.

Daily Deep Cleansing and Gentle Exfoliation:


It can cleanse out the accumulated oil or dirt and remove make-up. Smoothing bumpy skin and cleansing keratin are also effective.Working with high vibration can gently remove dead skin cells and promote the blood circulation.

Best Electric Cleanser to clear Clogged Pores and Even Skin Tone:


220 million times per second sonic vibration for skin microdermabrasion exfoliating and massager. Multi-functional portable facial skin care electric massager scrubber deeply cleanse facial pores,remove blackheads, whiteheads and milia.
This post contains affiliate links.