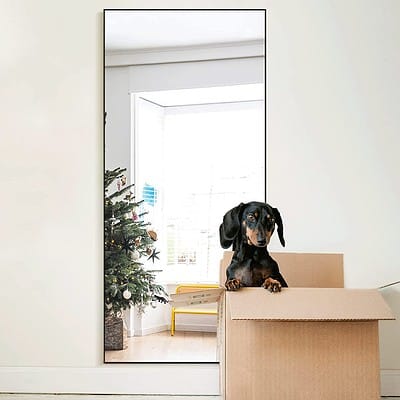 Have you priced big mirrors? I have and they are high! This is a good price. Get this KIAYACI Oversized Full Length Mirror Floor Wall Mirror Leaning Large Wall Mounted Mirror Horizontal/Vertical Bedroom Mirror Dressing Mirror Aluminum Alloy Thin Frame (Black, 71″x34″) for only $195!
90% Glass, 10% Aluminum Alloy

OVERSIZED MIRROR: The mirror is big enough to see your full body, and expansion space.

FEATURES: Multi-layered frame for more protection. Original edge-sealing technology, make the mirror lasting and more durable.

ALUMINUM ALLOY FRAME: The large floor dressing mirror is in uniform color and fine surface because we used matte polished aluminum alloy frames.The aluminm frame is very thin, light but durable, convenient for move and installation.

EXPLOSION-PROOF: The full body mirror is coated with silver nitrate, shattered glass will not be spilled out even impacted by external force, safe and protective.

INSTALLATION: This full length mirror could lean agaist the wall, or hang on the wall. There are hanging holes in the back of the mirror, just nail two complimentary screws on the wall and hang the mirror. Please find the installation method in the instruction manual.
This post contains affiliate links.