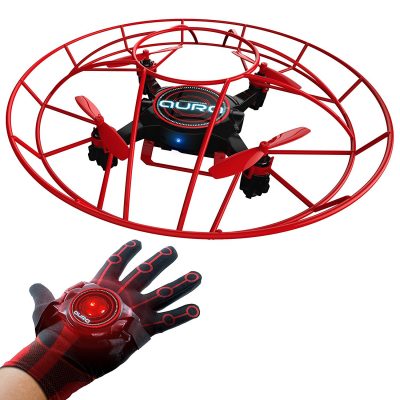 Looking for a budget drone to get started with the flying fun? Anyone can masterfully fly a drone thanks to Aura's advanced technology and kid-friendly features: Auto Takeoff, takes off with the push of a button; Auto Hover, maintains a steady height; Auto Landing, brings Aura in for a safe landing; and Headlock Mode, maintains orientation for perfect flight. Click here to check out the KD Interactive Aura Drone with Glove Controller, only $19.93. That's a savings of 80% and the best price on record!
Flying a drone just got easier and more amazing than ever! With Aura, you are the controller, you have the power

Suit up with the GestureBotics glove controller to fully control your drone using hand commands, superhero style!

Glove control eliminates the frustrations of traditional joysticks and multi-axis controls, allowing anyone to fly the first try!

Fly forward and backward, left and right, change altitude and even perform tricks like a sideways flip, all with a simple wave of the hand!

Automatic features like Auto Takeoff, Auto Hover and Auto Landing offer ultimate control for the perfect first flight right out of the box

Built-in height and distance limiters keep the drone under your power, and make Aura perfectly suited for indoor use

Multiple Aura drones can be flown at once, for fun group play or even racing!

Safety frame protects the drone from bumps and drops, and people from propellers
Remember, Amazon prices can change at any time.
This post contains affiliate links.