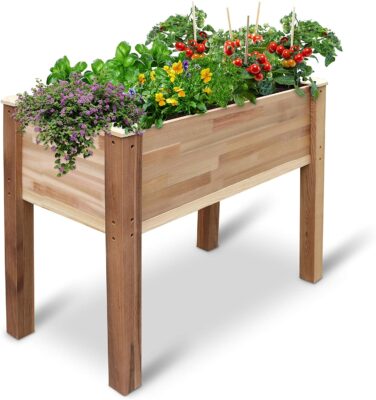 Tired of insects and animals eating your herbs and ravaging your flowers? Elevating your greens above ground offers a variety of practical and protective benefits. Not only are your plants outside the reach of those pesky cats and rabbits, Red Cedar also naturally repels insects, so your leaves stay safe and healthy without harmful chemical sprays or pesticides. Today only, get Jumbl Raised Canadian Cedar Garden Bed | Elevated Wood Planter for Growing Fresh Herbs, Vegetables, Flowers, Succulents & Other Plants at Home | Great for Outdoor Patio, Deck, Balcony | 34x18x30" for only $103.99!
GROW A GORGEOUS HERB GARDEN | Elevated Outdoor Planter Offers Beautiful, Practical Design for Growing Your Favorite Herbs, Veggies, Fruits, Flowers & Other Vegetation Above Ground | A Stunning Accompaniment to Any Small Space!

100% ROT-RESISTANT RED CEDAR | Reap a Bountiful Crop Season After Season! | High-Grade Cedar Wood Resists Weather-Related Damage, Won't Warp, Shrink or Swell in High Humidity, Naturally Repels Insects & Features Unique Red Coloring

COMFORTABLE RAISED DESIGN | A Healthy Choice for Gardeners with Bad Backs, Muscle Strain, Spinal Ailments & Chronic Pain | Upright Styling Alleviates Stress & Tension from Legs, Knees, Neck, Shoulders, Spine, Lower & Upper Lumbar, Etc.

SUPER SIMPLE ASSEMBLY & SETUP | Set Includes Step-by-Step Instructions, Parts & Hardware | Just Fill with Soil, Seeds or Starter Plants & Place in Sunny Location | Great for Protecting Plants from Pesky Rabbits, Deer & Other Pests

SMART SOLUTION FOR LIMITED SPACE | Grow Rosemary, Mint, Cilantro, Thyme, Parsley, Oregano, Lavender & Other Floral/Herbal Favorites Anywhere | Standing Garden Comes in [4] Sizes for Patios, Apartment Balconies, Fire Escapes & Beyond!
This post contains affiliate links.