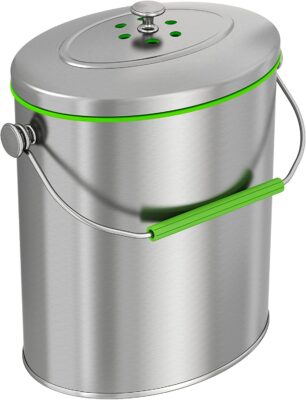 We make the products you use every day easier, more convenient, and healthier. Our products are designed by industry professionals who have been inventing innovative smart housewares for decades. Everything we make is rigorously examined to ensure you're getting a high quality product that will work perfectly for years of use. We also design our products to be as attractive as they are dependable, so you can have the perfect look in your kitchen. Our product ratings are proof of thousands of satisfied customers throughout the years. Get the iTouchless Stainless Steel Compost Bin 1.6 Gallon Includes AbsorbX Odor Filter System, Pest-Proof, Titanium Rust-Free Space-efficient Slim Oval Shape 6 Liter Kitchen Countertop Trash Can for only $27.94 for a limited time!
UNCONDITIONAL PROMISE – Your 100% satisfaction is assured and backed by a Full-Service Manufacturer's Promise for two years, including Dedicated Customer Support (see user manual for details)

EASY COMPOSTING AT HOME – Composting is great for the environment and for your garden. Collect biodegradable kitchen scraps in this attractive counter-top bin, then mix with soil for an all-natural fertilizer for your yard or garden.

ODOR & PEST CONTROL – AbsorbX Odor Filter absorbs odors – first filter is included! Tight lid seal prevents pests/fruit flys getting into the bin.

TITANIUM STAINLESS STEEL – Fingerprint-proof, easy to clean, elegant brushed titanium stainless steel with protective coating. Easy to rinse clean.

LARGE CAPACITY, COMPACT DESIGN – 1.6 Gallon / 6 Liter capacity holds days' worth of compost. Space-efficient design takes up little counterop space. Dimensions: 6.6" Deep x 10" Wide x 11.25" Tall; Opening Width is 8.25".
Remember, Amazon prices can change at any time.
This post contains affiliate links.