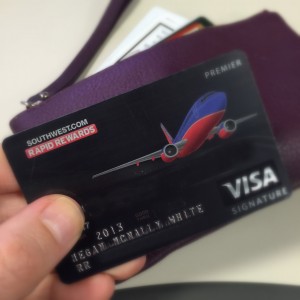 Is it just me, or is choosing a credit card harder than making the at-the-table fries or tots decision? "They're so long and sleek! But they're bite-sized! You must choose for me! I can't possibly!" Almost two years ago, I decided to finally get a credit card and after much research, it came down to the Southwest Credit Card and the Capital One Venture Card. They are pretty equal when you compare their benefits, so I made my decision based on the successful relationship I've had with Southwest as a dependable airline – and Capital One was just another bank. It's 24 months later and I bet you are wondering –
Is the Southwest Credit Card All It's Cracked Up to Be?

In short, my answer is yes. In long, here's why.
Earning points is easy: Getting one Southwest Rapid Rewards point for every dollar I spend adds up quickly. I pay every bill I can with my credit card (making sure I can pay the balance in full each month). Between my rent, utilities and entertainment, I have enough points for a free travel before I know it! And if I purchase flights, rental cars or hotels through Southwest, I earn two points for every dollar! As a Southwest Airlines Kool-Aid drinker, this makes sense for me. If you don't fly Southwest often, using a card that allows you to be more flexible might be a better option.
They give you free stuff: There are always Southwest credit card promotions going on. When I signed up, I automatically received 50,000 Rapid Rewards points after spending $2,000 in the first three months– that's two round trip flights! There are no foreign transaction fees, and as a Premier cardholder, I get an additional 6,000 points (3,000 with Plus card) on my Cardmember Anniversary! You can use points to purchase flights, rental cars, cruises and more!
Redeeming points is easy: The Southwest card ranked No.1 in overall satisfaction and ease of booking a flight, according to MileCards.com's 2014 Mile Satisfaction Survey. 64 percent of Southwest's cardholders said it's easy to redeem a travel award and Southwest reported the lowest average miles cost (21,176 miles) of the five largest US airlines. You book travel easily through Southwest.com, where you can search for flights by dollar or point amount.
They have excellent customer service: In the last six months, I have had to dispute three individual charges on my card. They weren't security issues — they were unique events with other businesses having poor ethics and trying to charge me for services not rendered. All three times, I easily disputed the claim on my credit card's website (Chase), and a representative called me personally to get my side of the story. They then said, "We are putting the money back on your card and we are handling it. Consider the case closed unless you hear otherwise." WHAT? I don't have to offer you the blood of my first born for you to even hear my plea? Nope. Southwest/Chase swoops in and "handles" it. Like a boss.
I do have one negative to the card, and it is their annual membership fees. The Southwest Rapid Rewards Premier card (my card), offers an opportunity to earn tier-qualifying points toward A-List status (you get to board the plane before the babies) for the annual fee of $99, with 6,000 anniversary points. The Plus card, which does not include this perk, has an annual fee of $69 for 3,000 anniversary points. Otherwise the cards are mostly the same.
What I am about to say stems from the assumption that we all know how Southwest works. But for those of you who have been living in a tent in the backyard for the last 20 years, here's the quick and dirty: Southwest does not assign seats. You check-in online or at the airport 24 hours prior to your flight and get boarding priority based on when you completed said check-in. This forces a human (I mean, me) to set 17 different alarms, reminders and carrier pigeons to ding at the EXACT second the 24 hour window opens. Which is really just a courtesy because, obviously, your finger has been hovering over the "Check-In" button for 45 minutes because you will be DAMNED if you get anything above an A23 this time.
ANYWHO. I don't care about A-List status really. I typically travel alone, so I can almost always find an aisle or window seat to my liking. So really, I am paying an extra $30 a year for an extra 3000 points. That seems like a good deal to me. So, my negative isn't REALLY a negative, I suppose.
Why do you love your credit card?