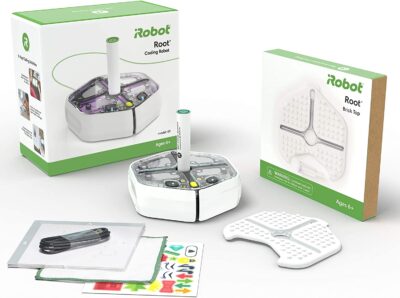 Looks like an amazing learning toy, on sale today only! Click here to snag the iRobot Root rt0 Coding Robot with Brick Top Holiday Bundle: Programmable STEM Toy for Kids 6+, Ideal for Creative Play through Art, Music & Code, only $84.99 today. 
Holiday Bundle – For a limited time, bring home the joy of creativity with an all-new bundle that includes the Brick Top for non-stop play and exploration!

Bring Code to Life Through Innovation & Exploration – The Root rt0 coding robot and Brick Top bundle combine family friendly fun and hours of coding activities at your fingertips, no matter your family's experience with coding or robotics. With over 20 reactive sensors and features this smart robot appeals to children and families of all interests.

Master Coding for Any Skill Level – With 3 learning Levels the Root rt0 is easy for beginners, but still challenging enough to keep experienced coders engaged. Create your own coding journey by using the iRobot Coding app's auto-level converter to instantly translate your programs across all 3 Learning Levels advancing with you as your skills progress.

Classroom Learning at Home – Packed with lessons, projects, and activities for hands-on problem solving, this bundle is a great investment in your child's future! Innovative technology allows you to customize and control your Root rt0 to drive, draw, react to touch, play music, and more.

Code, Create & Collaborate – Train your brain with a learning library containing hours of free activities that support individual, one-to-one or even group participation.

iRobot Coding App – Pair your Root coding robot with the iRobot Coding app using Bluetooth technology to watch your code come to life. For advanced users, additional premium content is available with a subscription.

Root Brick Top Included – Take your creativity to the next level with the Brick Top which lets you turn your Root coding robot into just about anything you can imagine – from a mobile catapult to a glowing rocket ship. Compatible with a variety of common building blocks, including Lego Bricks.
This post contains affiliate links.