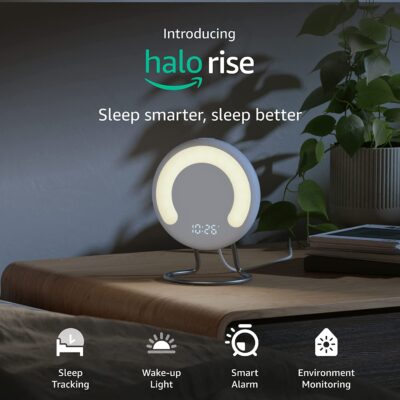 Wake-up Light simulates the colors of sunrise, gradually brightening to wake you in a natural way. Halo Rise can also simulate the colors of sunset, slowly dimming to help you relax and drift off. Smart Alarm monitors your sleep stages and wakes you at the ideal time for getting up. Click here for Amazon Halo Rise – Bedside Sleep Tracker with Wake-up Light and Smart Alarm for only $99.99.
Sleep smarter, sleep better — Bedside sleep tracker works with the Halo app to analyze sleep and provide recommendations on how to improve it.

Built for accuracy — Uses silent, no-contact sensor technology, measuring body movement and breathing to calculate sleep stages.

Works in the background — Nothing to wear or charge, nothing on your bed. Monitors room temperature, humidity, and light.

Wakes you naturally — Wake-up Light simulates the colors and gradual brightening of sunrise. Smart Alarm senses the ideal sleep stage for getting up.

Halo membership included — Purchase includes a 6-month Halo membership. Auto-renews at $3.99/month + tax. Access to some features in the Halo app may require a Halo membership. To manage your membership, visit Your Account › Memberships & Subscriptions.

Works with Alexa — Combine with a compatible Echo device to use as a voice-controlled smart light, hear a sleep summary, wake to music, or set up a Routine.

Designed for privacy — There's no camera or microphone. You can easily turn off sleep tracking at any time.

Easy to set up — The Halo app will guide you through the simple process.
This post contains affiliate links.