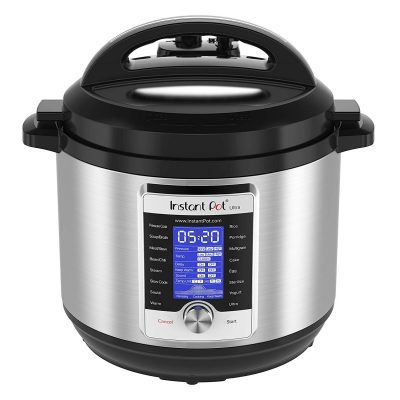 My favorite product in bigger and better form! Today only, get the Instant Pot Ultra 8 Qt 10-in-1 Multi- Use Programmable Pressure Cooker, Slow Cooker, Rice Cooker, Yogurt Maker, Cake Maker, Egg Cooker, Sauté, Steamer, Warmer, and Sterilizer for only $99.99! Instant Pot Ultra 10 In 1 Multi-Use Programmable Cooker is the next generation in kitchen appliances. Designed for the home chef looking for a greater degree of customization and control for even greater precision cooking. The Ultra combines the functions of a Pressure Cooker, Slow Cooker, Rice/Porridge Cooker, Cake Maker, Yogurt Maker, Sauté/Searing, Steamer, Warmer, Sterilizer, and, a truly new and unique feature, the Ultra program. The 'Ultra' provides complete custom programming for pressure and non-pressure cooking. Now, one can set the exact parameters desired to achieve perfect results each and every time. With the 'Altitude' adjustment, the guesswork is eliminated from a recipe conversion providing a more precise cooking time. Designed with a large, blue LCD display with a 'Cooking Indicator' to provide one a clear visual on the progress of your dish from preheating, cooking, and Keep Warm.
For large families, 6+ people. Item dimensions is 14.88 x 13.90 x 10.39 in inches

Instant Pot Ultra electric pressure cooker is the next generation in kitchen appliances. A central dial with a simple turn and press provides added precision in program selection and adjustment

New features: altitude adjustment, cooking indicator, and a steam release reset button. The Ultra button provides custom programming. The new features include sterilize, cake and egg programs

Replaces 10 common kitchen Appliances – pressure cooker, slow cooker, rice/porridge cooker, yogurt maker, cake maker, egg cooker, sauté/searing, steamer, warmer, and sterilizer

Developed with the latest 3rd generation technology with an embedded microprocessor. The microprocessor monitors the pressure and temperature, keeps time, and adjusts heating intensity and duration. Power supply: 120V – 60Hz, power supply cord length: 35 inches

Ul certified with 11 safety features to provide peace of mind. New steam release reset button for safer handling. All components in contact with food are food grade 304 (18/8) stainless steel

Power supply: 120V – 60Hz
This post contains affiliate links.