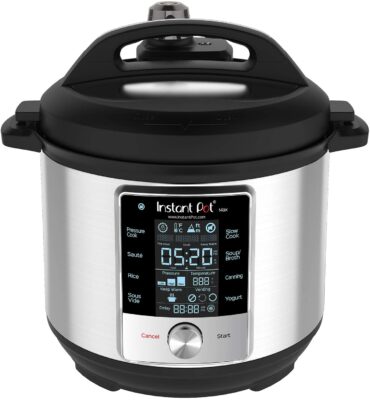 The Instant Pot max is a revolutionary multicooker featuring sustained 15 psi pressure cooking capability and nutritious technology, further speeding up the cooking process, while using up to 70% less energy. Above all, it produces nutritious, healthy and tasty dishes in a convenient and consistent manner.  offering the industry highest sustained working pressure at 15 psi. Historically, this pressure level was only achieved by stovetop pressure cookers. The 15 PSI pressure will not only cook food faster, it will allow you to do home pressure canning. Designed with a touch screen interface. The touch screen's intuitive interface makes programming seamless. Real-time temperature and cooking displays the cooking progress of your dish at a glance. Today only, get the Instant Pot Max Pressure Cooker 9 in 1, Best for Canning with 15PSI and Sterilizer, 6 Qt for only $79.99!
Sustained 15psi, not only cooks food faster, you can now do home pressure canning

Large touch screen makes programming seamless, you can set time, temperature, pressure level, delay start and Warm

Nutriboost technology works by creating a boiling motion during pressure cook to break down food, adding nutrition, flavor, and taste to soups and bone broth;

Altitude adjustment, eliminates the guesswork from your recipe conversion to provide a more precise cooking time;

Ul certified with 13 safety features, new automated venting and lid-lock and more. Accurate temperature control within +/- 1°C or 1. 8 °F allows for sous vide cooking

A new-brushed stainless steel exterior body, stainless steel interior cooker and inner pot made from food grade 304 stainless steel;

Packaging and all inserts are produced from 100% recyclable materials.
This post contains affiliate links.