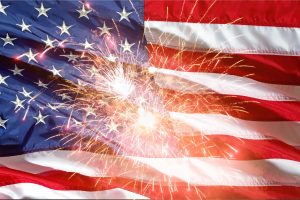 Fourth of July weekend is in sight! Perhaps it's already started for you. But before you fire up the grill, I thought we could all use a little reminder that the Fourth of July is more than just hot dogs and fire works. These 20 inspiring quotes are sure to put you in a patriotic – and celebratory – mood. A happy (and safe) Fourth of July to everyone!
"Where liberty dwells, there is my country." – Benjamin Franklin
"We must be free not because we claim freedom, but because we practice it." – William Faulkner
"Liberty is the breath of life to nations." – George Bernard Shaw
"In the truest sense, freedom cannot be bestowed; it must be achieved." – Franklin D. Roosevelt
"I like to see a man proud of the place in which he lives.  I like to see a man live so that his place will be proud of him."  – Abraham Lincoln
"America's a family. We all yell at each other, and it all works out." -Louis C.K.
"Freedom lies in being bold." — Robert Frost
"He that would make his own liberty secure, must guard even his enemy from opposition; for if he violates this duty he establishes a precedent that will reach himself" — Thomas Paine
"Freedom is nothing but a chance to be better."  – Albert Camus
"My God!  How little do my countrymen know what precious blessings they are in possession of, and which no other people on earth enjoy!"  – Thomas Jefferson
"I think patriotism is like charity — it begins at home." – Henry James
"Everything that is really great and inspiring is created by the individual who can labor in freedom." – Albert Einstein
"I wish that every human life might be pure transparent freedom." – Simone de Beauvoir
"Freedom is never dear at any price. It is the breath of life. What would a man not pay for living?" – Mahatma Gandhi
"You can't separate peace from freedom because no one can be at peace unless he has his freedom." – Malcolm X
"In the process of gaining our rightful place, we must not be guilty of wrongful deeds. Let us not seek to satisfy our thirst for freedom by drinking from the cup of bitterness and hatred. We must forever conduct our struggle on the high plane of dignity and discipline." – Martin Luther King Jr.
"The most courageous act is still to think for yourself. Aloud." – Coco Chanel
"Democracy is the government of the people, by the people, for the people" – Abraham Lincoln
"America was not built on fear. America was built on courage, on imagination and an unbeatable determination to do the job at hand." – Harry S. Truman
"The greatness of America lies not in being more enlightened than any other nation, but rather in her ability to repair her faults." – Alexis de Tocqueville