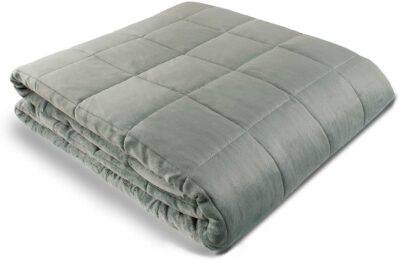 Find pure happiness and sheer relaxation with Hug Bud! The deep touch pressure and sensory stimulation provided produces a calming effect that can help soothe and relax children and adults more. Its super plush and fuzzy exterior is as cozy and comfortable as it gets! Today only, get the Hug Bud Weighted Blanket – 48″ X 72″ – 10-lbs – No Cover Required – Fits Full/Twin Size Bed – for 90-120-lb Adult – Silky Minky Grey – Premium Glass Beads – Calming Stimulation Sensory Relaxation for only $30.99!
Minky Soft

READY TO SOOTHE WITH STITCHED-IN COVER: No cover required! Our weighted blanket comes perfectly soft and cozy to wrap around you and soothe your troubles away just the way it is. The thick and comfortable polyester padding is ultra-fuzzy so you can find pure relaxation at home!

SUPERIOR COMFORT & SECURITY: Being wrapped in our blanket is like receiving a tight and loving hug that will put your mind and heart at ease. Like hugs, our blankets help ease your mind and calm your body so you can truly relax, fall asleep, and stay asleep all night!

PUT YOUR MIND AT EASE: Weighted with tiny beads, the blanket offers pressure and sensory stimulation that may help adults and kids feel relief. Use it as a throw for sensory stimulation on the couch.

THE BEST SLEEP YOU'LL EVER GET: Rest and relaxation come easy with our weighted blanket at your disposal! Weight therapy helps your body regulate your sleep cycle! It helps your mind and body achieve perfect paradise so you stay cozy all night long.

SAFE & EFFECTIVE: The blanket is composed of a 100% polyester exterior with a polyester padded interior. The beads within the blanket are lead-free and hypoallergenic to minimize risk of experience irritation or discomfort. Find which one of our blankets is ideal for your body type today!
This post contians affiliate links.