My dad and I recently bought car tires (best deals on car tires below) for the car we share. We shopped around before settling on purchasing brand spanking new tires. It was my first car-related purchase as a new driver, and it quickly made me realize how expensive cars are.
According to Modern Tire Dealer, a trade publication, the average price of a passenger tire in the U.S. keeps on going up because of the soaring cost of natural rubber and petroleum. Car tire prices increased 57% from 2006 to 2012. Yikes!
Below I compare the cost of new and used car tires to find the best deal.
In the chart below, I compare the price of the same Goodyear tires for a 2000 Toyota Camry at different stores.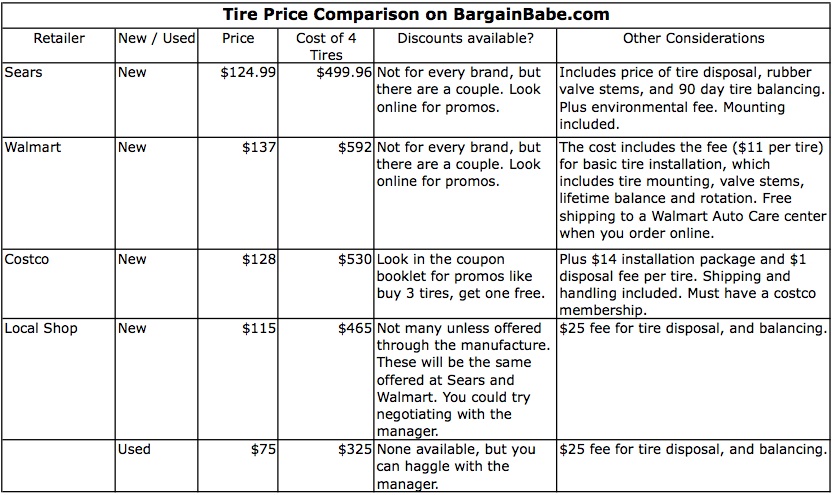 From the chart, you'll notice the cheapest car tires are used. My main concern with used tires is the safety — that's why we opted to buy new car tires. If you do opt to go the cheapskate route, make sure you check the tires carefully. Look at the wear of the tire and make sure it's evenly distributed and that there are not puncture marks. Make sure to ask for thread count (some cities have a minimum thread requirement). Do your homework so you don't end up being sold recalled or worn out car tires.
To my surprise, Walmart sells the exact same tires at a higher price. With a good promo you could cut $25 to $45 off the cost, but it wouldn't be as inexpensive as shopping a local car shop or auto parts store.
Note that new tires will need to be mounted to the rims, balanced and installed on your vehicle so you'll most likely end up paying for this work if it's not included in the price already.
According to an LA Times story, renting tires is becoming popular as many consider the upfront costs to be cheaper than buying. In reality, renting tires is NOT a good deal as you'll end up paying more in the end. (Kind of like leasing a car.) The Times story indicates people can end up paying three times as much!
Time to Replace Tires?
Tire sales happen throughout the year, but if you want the best deal, shop in April or October.
Don't forget to include warehouse stores in your price comparison, if you're a member of one. I found the third cheapest price at Costco without a coupon! Now if you use a tire coupon that is mailed to members in their monthly coupon booklet, the price could go down further.
Look for deals where you buy three tires and get the fourth free, or similar promos.
Stick to tires that match the kind of driving that you will do, and avoid paying more than you need to.
Extend the Life of Your Tires
Check the air pressure. Like Goldie Locks, you want to make sure your tires' air pressure is not underinflated, overinflated, but just right! Here's how to inflate your tires for free.
Rotate your wheels. Here's why tire rotation is important.
Buy a full matching set. By replacing all four at once, you'll be able to maintain your tires better.
How do you save money on car tires?