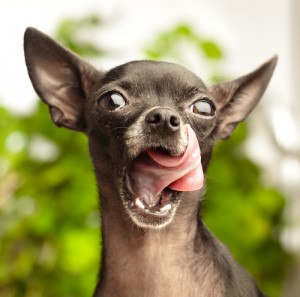 This recipe for homemade dog food is from my Mom, who started making it for her dog Yoshi because she was having a lot of itchy skin issues that didn't respond to medicine. It is wheat free. The recipe takes about 1-1.5 hours to make and makes 14 cups. How long it will last depends on how many cups of dog food your pooch eats every day!
Recipe for Homemade Dog Food (Wheat Free)
Ingredients
3 cups uncooked brown rice or potatoes
2 lbs chicken, turkey, fish, beef or lamb
1.5-2 cups chopped or grated veggies: spinach, broccoli, zucchini, or yellow squash
3 large grated carrots
1 cup corn oil
3/4 tsp salt
One multi-vitamin per day*
1 egg per week
Option 1: add extra carrots, egg yolks, additional raw meat.
Option 2: to make this dog food recipe organic, use all organic ingredients.
*This dog food recipe makes 14 cups of dog food, so if your dog eats 2 cups of food per day, one batch will last seven days, so add seven vitamins. The formula to determine how many vitamins to add is:
14 cups of dog food/ How many cups your dog eats per day = Number of vitamins to add
Directions
Cook the rice. In a separate pan, cook the meat. 10 minutes before the meat is done, add your veggies. Combine rice with meat and veggies mix. Add in the grated raw carrots, corn oil, salt and crushed vitamins. Store in an air tight container in the fridge. Feed to your dog within 1 week.
Recommendation for another dog food recipe
My friend Kristin has made homemade dog food for her pooch, Pushkin,
for years
and I swear her dog never ages. She uses Dr. Pitcairn's recipe the book
Dr. Pitcairn's New Complete Guide to Natural Health for Dogs and Cats
. The dog food recipe includes cooked grains, grounds meats, vitamins (E, C, A&D, nutritional yeast, kelp powder), veggies, and calcium (egg shells or bone meal).
Tobysbone.com also has comprehensive instructions for making your own dog food.
Do you make your own dog food?