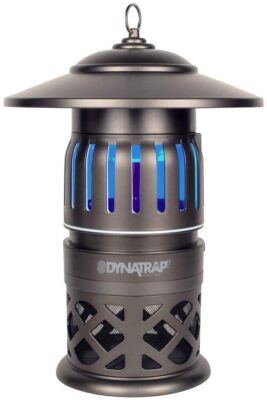 Save on Household and Professional Pest Control from DynaTrap, Field King, Cutter and more. Is your home and yard plagued by mosquitoes, biting flies, wasps, moths, Asian beetles, or stink bugs? The DynaTrap ½ Acre Mosquito and Insect Trap provides a simple and effective option for protecting your property. The lightweight, portable, and powerful all-weather trap is designed to provide protection up to ½ acre. Get this DynaTrap DT1050-TUNSR Mosquito & flying Insect Trap – Kills Mosquitoes, Flies, Wasps, Gnats, & Other Flying Insects – Protects up to 1/2 Acre for only $66.99.
What We Catch – Attracts and traps mosquitoes, biting flies, house flies, moths, no-see-ums, June beetles, wasps, yellow jackets, stink bugs, gnats, and biting midges

3-Way Protection – The UV light and TiO2 coating lure flying insects to the trap, then the powerful, whisper-quiet fan sucks them into the basket

Powerful Protection – The trap effectively protects up to 1/2 acre of your property

All-Weather Construction – A durable design for indoor or outdoor use. Keep it continuously running all season long for non-stop insect protection

Discreet Design – The sleek tungsten finish and decorative basket are designed to effortlessly blend in with your existing décor

Easy to Use – Place traps 3-6 feet above the ground and 20-40 feet away from people. Plug the trap in and empty the catch basket as needed
This post contains affiliate links.