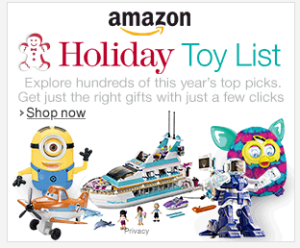 I haven't even started my holiday shopping yet! Seriously, I have not made a single purchase towards all the items on my holiday list. At least this year my extended family has (mostly) decided exchange "couple" gifts. So my husband and I will give my sister and her husband one gift, and they as a couple will give us one gift. Less items to shop for, less time spent stressing, less money spent (perhaps)!
Toys are the one item that I really enjoy buying. Now that I have children, and I see how much joy kids get from toys, I love buying them. Amazon consistently has great prices on toys and this time of year the competitive is so stiff for items like toys that the prices are typically even better! See the Amazon toy deals below.

This post contains affiliate links. Thank you for helping make blogging my full time job!