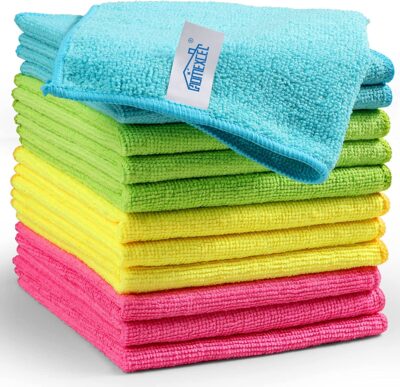 Made of 87% Polyester and 13% Polyamide, this microfiber cloth is extremely soft and non-abrasive. It is designed to easily pick up liquid and remove debris or dirt without causing any harm or leaving streaks on glass, ceramics, porcelain, stovetops, or silverware. Get this HOMEXCEL Microfiber Cleaning Cloth,12 Pack Cleaning Rag,Cleaning Towels with 4 Color Assorted,11.5″X11.5″(Green/Blue/Yellow/Pink) for only $5.51!
Microfiber

EFFECTIVE CLEANING: Take these cleaning cloths in the perfect size (11.5″X 11.5″) to clean your worktop, kitchen, windows, or even your car and other delicate surfaces. With just water or cleaner, you can achieve streak-free and neat results.

LINT-FREE & SCRATCH-FREE: Made of 87% Polyester and 13% Polyamide, these cleaning rags are soft to the touch and lint-free. They will not scratch or damage any finishes. Clean with confidence.

REUSABLE & DURABLE: These cleaning towels can be used repeatedly hundreds of times. With reinforced edges, they are designed to be long-lasting and won't easily break. Make a positive impact on the environment by reducing the use of paper towels.

VERSATILE & EASY TO WASH: Not only suitable for general cleaning tasks, but also great for cleaning car exteriors or interiors, electronics, eyeglasses, screens, and more. After use, simply rinse them or throw them into your washing machine, as they are completely safe.

GIFT OPTION& WORRY-FREE SERVICE: Add our soft and ultra-absorbent microfiber towels to your household cleaning supply arsenal. Step into a world of clean comfort with Homexcel microfiber cleaning cloths.
Remember, Amazon prices can change at at any time.
This post contains affiliate links.