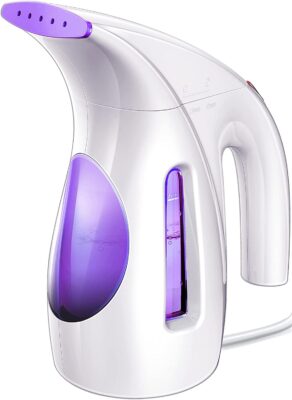 Hilife, as its name goes, means says Hi to life every day. We firmly believe that everyone should enjoy life to the fullest. Hilife can help you. We are committed to offering budget-friendly, high quality and convenient garment steamer to keep your garments in top condition in no time and to help you deal with all kinds of tedious housework in your life. Get this Hilife Steamer for Clothes, Portable Travel Clothing Steamer with 240ml Big Capacity, Strong Penetrating Handheld Garment Steam iron, Removes Wrinkle, for Home, Office and Travel for only $24.79!
Tier 1 customer support also provides a joyful shopping experience for you.
[Easy Operation] The steamer generates has a 9-foot power cord and it produces long lasting, gentle steam, so that you do not have to worry about operating it remotely and ironing your clothes from a distance.

[Wrinkle Free In Minutes] : Eliminate wrinkles on your clothes and fabrics easily. Hilife Clothes steamers are an efficient and reliable way to remove wrinkles from apparel, furniture covers, and curtains.

[Large Tank Capacity]: The 700W steamer has a water holding capacity of 240 ml, which can provide up to 15 minutes of continuous steaming to eliminate wrinkles

[Strong Penetration Steam] The handheld steamer has a strong penetrating steam which can be used over a wide range of fabrics like chiffon, silk, wool, cotton, linen, nylon and many more.

[Power Requirement]: Hilife Garment Steamer is best for countries like the US, Canada, and Japan where the voltage is 110–120 volts. However, Plugging into a 220V-240V or not 110-120V outlet will damage the product
Remember, Amazon prices can change at any time.
This post contains affiliate links.