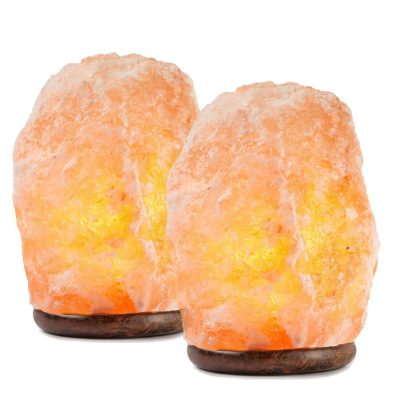 What an amazing bargain! Grab a two pack to share with a friend! Click here for the HemingWeigh Natural Himalayan Salt Lamp 2 Pack, only $18.74. This product has fantastic reviews and is such a great price. Click here for more Himalayan Salt Lamps on sale today!
HIMALAYAN LAMPS – Himalayan Salt Lamp are unique – The lamps are handmade and hand carved in the Himalayan Mountains. Himalayan Salt are blocks of pure Himalayan salt, they come from Pakistan, known as top in the world in SALT craftsmanship. Also known as the 'Vitamins of the Air'

HOME DÉCOR – We've housed This in a decorative wood base, perfect for the design-conscious home. It will fit right anywhere, at the center of a coffee table, bedside table, Dining or living room. The warm glow given off the Salt Crystals will provide a soothing and tranquil environment.

QUALITY – Himalayan salt lamps from Pakistan are top in the world in craftsmanship – All our lamps are UL/CE certified, CE Approved and RoHS Conform- We also made changing bulbs painless. Wrapped with care in PE foam and shrink wrap. Elegant and novel gift for graduations, birthdays, thank-yous, and special occasions. This Himalayan Salt lamp is a perfect gift for anyone and anytime.

CUSTOMER SATISFACTION: Customers come first. We stand behind our products and we listen to our customers. You will be completely satisfied with this product. And if you have any question you can always contact us and we will be glad to help you. We do offer a hassle-free money back guarantee
This post contains affiliate links.