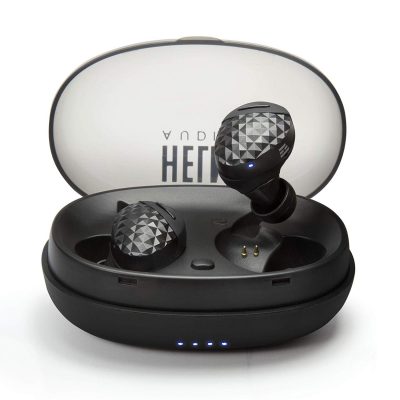 Finally, a True Wireless with TRUE sound quality and powerful bass featuring proprietary high-powered rare polymer and alloy drivers that deliver commanding bass, captivating mids, and crystal-clear highs, that bring your music to life in a way you have to hear to believe. Today only, get the fabulous HELM Audio True Wireless Earbuds/Earphones for only $64.99.
SOUND MATTERS: Exceptional HiFi Sound Quality, Incredible Bass and Superb Definition. Designed by Audiophiles, Artists & Producers for the Best Sounding Wireless Listening Experience.

COMFORT AND DURABILITY: Perfected Ergonomics for a Secure Comfortable Fit w/ Anti-Slip Silicone Padding. Durable Fingerprint and Scratch Resistant Shell. Comes with 3 tip sizes S/M/L to Ensure a Noise Isolating Tailored Fit and Seal. Note: For Smaller Ears the fit may not be ideal.

INDUSTRY LEADING RANGE: Proprietary Antenna Technology Provides a Range of 80+ Feet. Extended Listening 3.5 Hours Plus 15 Hours Additional Listening with Pocket Friendly Charging Case. Compatible with any Bluetooth Device.

SMART CONTROLS AND DUAL MICROPHONES: Seamlessly Control Your Music Tracks and Volume, Make Phone Calls and Voice Assistant Activation. Note: For Phone Calls, Sound is Heard from One Earpiece.

GREAT FOR WORKING OUT: Secure Comfortable Fit Stays in Ears During Vigorous Activities and Water-Resistance Makes it Rain, Sweat, and Mud Approved.
This post contains affiliate links.