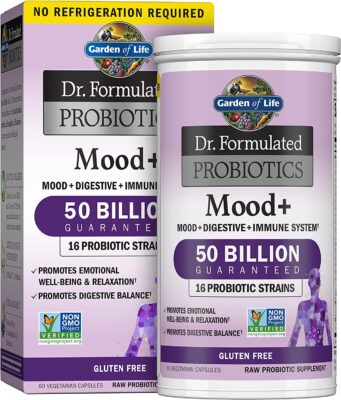 Save on Health and Wellness from OLLY, Neuriva, Nature's Way and more!
Emerging science is showing a link between gut and brain health. Dr. Perlmutter created this unique formula with clinically studied probiotics L. helveticus R0052 and B. longum R0175 in the amount clinically shown to support mood, emotional well-being and relaxation. Mood+ also has 350mg of organic ashwagandha and organic Alaskan blueberries for stress management.† With 50 Billion CFU and 16 probiotic strains, Mood+ provides digestive and immune support to promote a healthy microbiome.† Mood+ is Non-GMO Project Verified, NSF Certified Gluten Free and contains no dairy or soy. Get this Garden of Life Dr. Formulated Probiotics Mood+ Acidophilus Probiotic Supplement – Promotes Emotional Well-Being, Relaxation and Digestive Balance – Ashwagandha for Stress Management, 60 Veggie Caps for only $24.63!
DOCTOR FORMULATED PROBIOTICS FOR EMOTIONAL WELL-BEING AND RELAXATION: Mood Probiotic provides 50 Billion CFU and 16 Probiotic Strains including Clinically Studied probiotics, plus 350 mg of Organic Ashwagandha and Alaskan Blueberry for stress management

DIGESTION SUPPORT BACKED BY SCIENCE: Emerging science shows a link between gut and brain health; this supplement for mood includes L. helveticus ROO52 and B. longum RO175—Clinically shown to support mood and relaxation—plus Lactobacillus acidophilus

STRESS MANAGEMENT AND PREBIOTICS FOR WOMEN AND MEN: Our prebiotic supplement with Organic Acacia and Potato prebiotic fiber to help feed good bacteria in the gut, plus a blend of Ashwagandha and Blueberries for stress management—in just 2 capsules a day

PROBIOTIC POTENCY GUARANTEED THROUGH EXPIRATION: We begin with high levels of probiotics to ensure viability, even if the product is warm for a few days during shipment—especially during summer or in warmer climates; Shelf stable, no need to refrigerate!

THIRD-PARTY CERTIFIED NON-GMO AND GLUTEN-FREE: Proudly manufactured following current good manufacturing practices (cGMPs) and Third-Party certified, so you don't have to settle for less than Non-GMO Project Verified and NSF Certified Gluten Free
This post contains affiliate links.