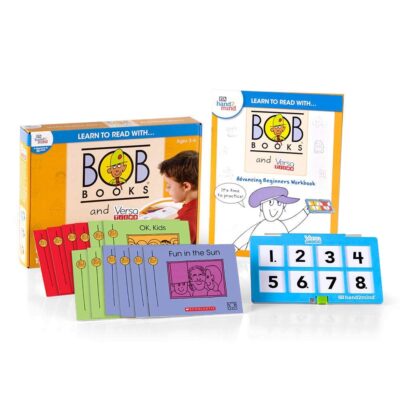 I'm a big fan of a BOB books and here's a great bundle to get your little one started reading (at a great price)! Click here for the hand2mind Learn to Read with BOB Books and VersaTiles Advancing Beginner Set, Early Reader Books for Kids Ages 4-6, 12 BOB Books, Workbook and Answer Case, Homeschool Kindergarten Suppliesm only $21 for a limited time! Kick start your child's path to reading with Bob Books and Versa Tiles Advancing Beginners Set This learning set is perfect for kids who know the Alphabet and is introduced to 2-3 letter phonics words The Advancing Beginners workbook provides children additional practice that they will love and need! It is very beneficial and essential to your kid when it comes to helping them build strong reading skills.
REINFORCE READING: Bob Books offers repetition and fun stories to introduce basic phonics consistent vowels and slightly longer stories ensure that your child has mastered the basic phonics with this reading foundation set before they advance to consonant blends. The advancing beginner set helps reinforce literacy concepts at home through hands-on learning.

SIMPLE STEPS FOR ADVANCED BEGINNER READERS: Learning kit includes 12 Bob Books, 20 hands-on learning activities Versatile workbook, and 1 Versatile answer case.

HANDS-ON LEARNING FROM THE EXPERTS: Simply line up the puzzle-like answer case on top of the page in the book and line the tiles up on top to start Pick up each tile 1-8 and answer the question underneath it Once each tile is placed close the case flip it over and see if the pattern matches what is on the bottom right corner of the workbook page Bob Books & Versatile provide kids with the essentials they need to start learning at home or school.

LEARNING KIT INCLUDES: 12 Bob Books, 20 hands-on learning activities, Versatile workbook and 1 Versatile answer case. The 12 Bob Books focus on letter sounds and building up children's confidence to say "I read the whole book! "

STUDENT TESTED, TEACHER APPROVED: Additional practice beginning readers will LOVE! This set builds strong reading skills focus on three-letter words and consistent vowel sounds in slightly longer stories.
Remember, Amazon prices can change at any time.
This post contains affiliate links.