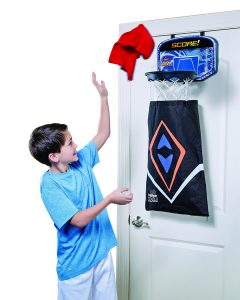 Could this be the solution to getting kids to finally put their dirty laundry in the hamper? Get these Hamper Hoops by Wham-O for only $9.98 right now! 
Hamper Hoops by Wham-O is a 2-in-1 over-the-door basketball hoop with detachable laundry bag

Turn chores in a game and put an end to cluttered floors and missy piles of clothes

Unzip the bag's bottom zipper to empty your laundry right into your basket

Includes Basketball Backboard, Hoop and Net plus a spacious Removable Laundry Bag

Fits on any door with simple over-the-door design
This post contains affiliate links.