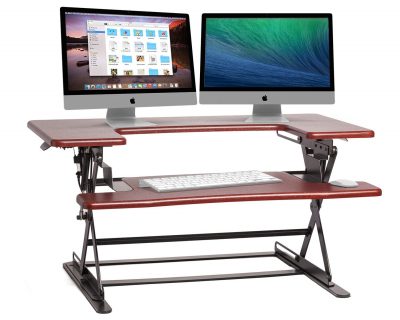 The Halter ED-600 Elevating Desktop was designed to assist those who are challenged with back, neck, posture, and circulation problems. It provides multiple height desktop work levels to maximize comfort, introduce work height variations, optimize posture / natural blood circulation, and reduce eye strain. Click here to save $60 and get the Halter ED-600 Preassembled Height Adjustable Desk Sit/Stand Elevating Desktop for only $109.99 today!
HEIGHT ADJUSTABLE: Make Working Comfortable Without Height Adjustable ED-600, Gently Squeeze The Handles For Easy Height Adjustment From Sit ⬇ To Stand ⬆ Position.

FULLY ASSEMBLED: Seamlessly Setup Your Fully Assembled ED-600 By Placing It On Your Table, Desk Etc. And You're All Set.

FREE UP SPACE: Our ED-600 Tabletop Comes With A Large, Sturdy Platform With More Than Enough Room For Your Office Essentials Such As A Laptop ?, Full Size Keyboard ⌨, Mouse, Accessories & Much More.

RELIABLE MECHANISM: Our Tabletop Offers State Of The Art Gas Spring Technology Exclusively Patented By Halter.

We, at Halter, Offer Not Only Top Grade-A Quality Products But Also Provide Top of The Line Customer Service Along With Our 1-Year No Questions Asked Warranty Policy Which You Won't Get With Other Brands.
This post contains affiliate links.