It's that time again when YOU get to tell me what I should dress up as for Halloween. The contest rules are simple. Tell me what my Halloween costume should be by leaving a comment and the most frugal and unique costume wins!
I'll create the Halloween costume you suggest AND post pictures. It can be scary, sexy, sweet, silly, punny, political, timely, whatever – I'm game!
So, what should I be for Halloween?
I'll need at least a week to put together the winning costume so comment NOW! The contest ends Friday, October 24, 2014. Look for an announcement early the following week for what I'm going to dress up.
Keep in mind…
A couple's costume may get preference because my husband and I like to dress up together
A costume that requires shelling out more than $20 is most likely

not

going to be picked as the winner
No ideas? Vote for someone else's suggestion by leaving a comment!
Here's what I (we) dressed up as in past years:
2008 – Bunch of grapes (Georgie's idea!)
This costume was super easy and cost less than $3. I dressed all in black and blew up a bunch of green balloons. You can also do purple. With safety pins, I carefully pinned several dozen grapes to my clothes using the nubby part of the balloon. If you're going out, bring a few extra in case they pop!
2009 – Sexy librarian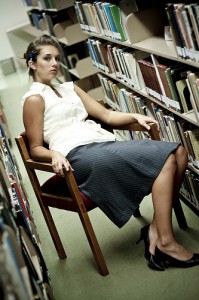 Sadly, this is not a picture of me. But I did dress up as a sexy library in 2010. The day after Halloween I lost my phone and never recovered the photos. The costume was a cinch to put together – fitted skirt that fell at my knee, a fitted button-down blouse, pearl necklace, hair in a bun (with a few loose strands) and I carried around a book. Can't remember which shoes I wore.
2010 –  Vending machine
I made MONEY from this costume, too! I grabbed a cardboard box from the recycling pile and carved out a big square. Taped a white piece of poster board to the back of it. Taped a bunch of small sized items to the back: candy, gum, toothpaste, mouth wash, tissues, and condoms! Using a small index card, I made a small sign (you can see it in the lower right corner) with my pricing info. Duct tape straps kept it on all night.
Tip: Use a smallish box. We went to a crowded bar, and it was a nightmare. I ended up taking off the costume several times because it was so bulky it was hard to move around and talk to people. I'd suggest something not much wider than you and that doesn't fall below your waist.
2011 – Couch potato with a beer belly (my first time cross-dressing!)
I grabbed my husband's work pants, pulled on a white tank top, and scrambled into a large plaid overshirt. The baseball cap was from the attic and I grabbed a beer and potato chips from the kitchen. Don't forget the remote! Super easy costume!
2012 – Stick Man and Lightening Bug
Sadly, no pictures survive this Halloween, either. Arg! Hubs took the night with the best costume, based on a quick viral video, seen below. He dressed all in black and pinned strips of LED lights to his arms and legs so in the dark he turned into a Stick Man! Very fun costume, thought the lights took some fiddling with.
My lightening bug costume didn't pan out as well as I'd hoped (it wasn't dark enough for my "glow-in-the-dark" tail to really glow). Or maybe I didn't use enough glow-in-the-dark paint. Either way, I would recommend testing your lightening bug costume out a week or two before Halloween so you can make adjustments.
2013 – Hipsters from Portlandia
No picture, but we rocked it.
What should I dress up as for Halloween this year?