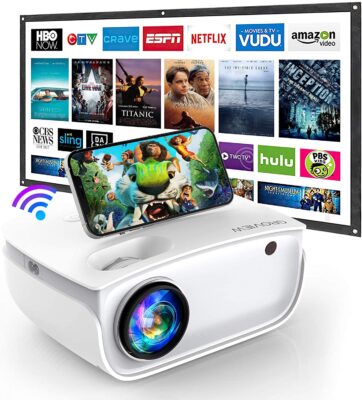 Save on Groview VIDEO PROJECTORs today and create an outdoor entertainment setup that your family will love. The RD850 projector supports a 240″ HD 1080P display, with wireless and wired connectivity. Perfect when you use the included 100″ screen to host a great family gathering, weekend movie week, movie night, and outdoor campfire movie event! This WIFI projector is with wireless screen projection function, so you can use smart devices to project while charging, which is very convenient! Of course, in addition to the wireless connection, it also supports the wired connection. Choose the connection you like and use it to enjoy your free time! Get this【Updated】 Mini Projector, 7500L Portable WiFi Projector with 100" Screen, Full HD 1080P and 240″ Supported, Wireless Home Projector for Outdoor Movie Night, Compatible with TV Stick, Android &iPhone for $55.99. 
【NEWEST WIFI & USB CONNECTION】Without any extra expensive HDMI Adapter, it can support wired and wireless projection for iOS and Android systems. Easily projects your mobile phone screen to the big display. (Due to app copyright, movies and videos on Netflix, Prime Video, and Hulu can only play if connected via laptop, fire tv stick, Roku, or Chrome cast.) Android/iPhone/Windows10

【PERFECT HOME CINEMA EXPERIENCE】 GROVIEW RD850 video projector with projector screen is upgraded LED lighting provides +55% brightness than an ordinary projector. Native 1280 x 720P projector(support 1920x1080P). Ideal for home video in the backyard, hosting parties and movie nights while traveling. Not recommend for PowerPoint or other office presentations.

【BIG SCREEN SIZE EXPERIENCE & Zoom Function】100 inch projector screen included. This movie projector provides a watching size from 50" to 240" (The best view screen size is 80"-100″, 7-10 feet distance). Plus One-Click Restore & zoom function. Very convenient to adjust the screen by using the remote control, especially for the projector suspended from the ceiling. Also, it is less harmful to children's eyesight than television due to the diffuse reflection imaging.

【HiFi STEREO SPEAKERS and ADVANCED COOLING SYSTEM】This overhead projector have 5W HiFi stereo speakers with an SRS sound system, which you can get a superior sound experience. Our video projector adopts temperature control technology and a team of 2 independent intelligent speed control fans, which adjust the speed according to the temperature in real-time. It minimizes the power consumption and extends the lamp life up to 80,000 hours.

【Valentine's Day Gift & 2 YEARS CUSTOMER SERVICE 】 This projector uses upgraded noise reduction technology which makes you concentrate on enjoying your movies. Our product is manufactured under strict quality standards. If you are not 100% satisfied with this purchase, please contact us and we will reply to you ASAP to solve all of your problems. In addition, ♥♥We offer a FREE REPLACEMENT POLICY & 2 YEAR CUSTOMER SERVICE♥♥, totally no risk for you!

【Packing List】1 * RD850 projector ,1 * 100″ Projector Screen ,1 * HDMI cable ,1 *3 in 1 AV cable ,1 * power supply ,1 * User Manual ,1 * remote control ( battery not included),1*lens cover
This post contains affiliate links.