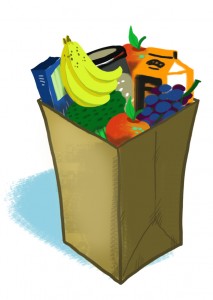 Halloween candy deals are beginning to hit stores! I include some below. If you know of any Halloween candy bargains, let us know in the comments. My Coupon Database searches dozens of sites for all grocery and drugstore coupons available. New coupons added weekly!
Albertsons – Save at Home Mommy has the full list of Albertsons coupons including Barilla Pasta for as low as FREE plus the cost of pasta sauce, Uncle Ben's Country Inn Rice for as low as FREE, Nectresse Natural No Calorie Sweetener Product for $1.89 or FREE with a doubler, New York Style Bagels Strips are buy one get one FREE with in ad coupon, Buy 2 Betty Crocker Cookie Mix and get 1 Hershey's Harvest Candy FREE, and Bailey's Coffee Creamer for $.50.
Ralphs – Chief Family Officer has this week's Ralphs coupons including Snickers or Milky Way Bagged Candy for $1.50 when you buy 3, Yoplait Yogurt for as low as $.47 each when you buy 6 after coupon and SavingStar credit, and Quaker Instant Oatmeal for $1.50 when you buy 2.
Publix – Southern Savers posted this week's Publix grocery coupons. Highlights include Green Giant Frozen Vegetables for FREE, Sundown Vitamin D3 1000 IU for FREE, Mueller's Pasta for $.18, Hidden Valley Ranch Dressing or Farmhouse Originals for $.46, and Arm & Hammer Toothpaste for $.69.
Safeway/Vons – Get all the Safeway/Vons coupons and deals later today.
Whole Foods – Get Whole Foods coupons later today. Our tips for saving money at Whole Foods.
ShopRite – Living Rich With Coupons posted this week's ShopRite coupons. Highlights include Ronzoni Pasta for as low as $0.38 each after coupon when you buy 2, Francesco Rinaldi Pasta Sauce for as low as FREE after coupon, Brach's Candy Corn for as low as $.25 each after coupon when you buy 2, and Butterball Turkey Bacon for as low as $0.56 after coupon.
Fresh n Easy – The Deal Fanatic posts this week's Fresh n Easy grocery coupons later today.
Winn Dixie – My Baton Rouge Mommy shares Winn Dixie grocery deals later today.
Stop & Shop – Look for this week's Stop & Shop coupons on Friday, the beginning of their sale cycle. Or shop by Thursday for this week's sale, including Brach's Candy Corn, Indian Corn, Mellocreme Pumpkins, Autumn Mix, Caramel Corn, or Caramel apple Corn for as low as $.75 each after coupon, Friendship Sour Cream for as low as $0.56 each after coupon, International Delight Creamers for as low as $0.56 each after coupon, and Van's Natural Foods Waffles, French Toast Sticks, or Pancakes for as low as $.50 after coupon.
Kroger – Faithful Provisions shares this week's Kroger grocery coupons, including Field or Fischer's Lunch Meat, Bologna or Hot Dogs for FREE, Right Guard Sports Deodorant for $.79, and Locally Grown Eggplant for $1.
Wegman's – This week's Wegmans coupons and deals include Muir Glen Organic Tomato Sauce for FREE, Bailey's Coffee Creamer for $.89, Gerber Graduates Grabbers for $.09, and Yoplait Light Yogurt with Granola for $.79.
Harris Teeter – This week's Harris Teeter grocery coupons will be up later today.
Trader Joe's – Healthy Life Deals shares this week's Trader Joe's deals, including Lightlife Gimme Lean for $1.69, Trader Joe's Organic Red Quinoa for $3.99, Trader Joe's Gluten Free Bagels for $3.49, and Oregon Chai for $1.99.
Giant Eagle – Lady Savings shares this week's Giant Eagle deals later today.
NEX – Military Wives Saving posts the best grocery deals at the Navy Exchange each week.
Grocery coupons – Get the latest grocery coupons from Coupons.com.
Redplum coupons – Get the latest coupons from Redplum.
New to coupons? Check out Bargain Babe's post on coupon clipping basics. If you want to take advantage of these deals, make sure to save the coupon inserts you receive in the mail or with your Sunday newspaper. Here's a great suggestion for how to handle coupon organization.
This post is copyrighted by BargainBabe.com. Any other site posting this content is violating the DMCA.