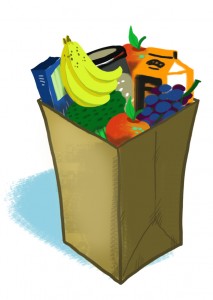 My Coupon Database searches dozens of sites for all grocery and drugstore coupons available. New coupons added weekly!
Publix – Southern Savers posted this week's Publix grocery coupons. Highlights include FREE Quaker Chewy Granola Bars, FREE Puff's Facial Tissues, FREE Sundown Vitamin D3 1000 IU, Dannon Danimals Smoothie or Crunchers for $.59, and Luigi's Real Italian Ice for $.94.
ShopRite – Living Rich With Coupons posted this week's ShopRite coupons. Highlights include YoCrunch Yogurt Cups for as low as FREE after coupon, Pillsbury Cake or Brownie Mix for $.88, Kellogg's FiberPlus Nutty Delight Bars for $.59 after coupon, Smucker's Grape Jelly for $.49.
Albertsons – Save at Home Mommy has the full list of Albertsons coupons including Albertsons Whole Fryer for $.99/lb, Emerald Nuts Breakfast On The Go! for $2 each, Cheerios Cereal Assorted Flavors for $1.75 each, and Prego Sauce for $1.34 each when you buy 3.
Ralphs – Get all the Ralphs coupons later today.
Safeway/Vons – Get all the Safeway/Vons coupons and deals later today.
Stop & Shop – Look for this week's Stop & Shop coupons on Friday, the beginning of their sale cycle. Or shop by Thursday for this week's sale, including Yoplait Yogurt as low as FREE after coupon if Simplait are included, Pure Silk Shave Cream for as low as FREE after coupon, and Purina Friskies Cat Food for as low as $0.25 each after coupon.
Fresh n Easy – The Deal Fanatic posts this week's Fresh n Easy grocery coupons later today.
Kroger – Faithful Provisions shares this week's Kroger grocery coupons, including Chips Ahoy Cookies for $1, Simple Truth Bar for $.79, and Right Guard Sports Deodorant for $.79.
Winn Dixie – My Baton Rouge Mommy shares Winn Dixie grocery deals. Highlights include Red seedless grapes for $.99/lb, Bryan Juicy Jumbos franks for $.90, Keebler Cinnamon Roll Cookies for $1.30, and Hamburger Helper for $.74.
Wegman's – This week's Wegmans coupons and deals include FREE Wegmans Infant Formula, Wegmans Organic Waffles for $.79, Bailey's Coffee Creamer for $.89, and Odwalla Nourishing Food Bar for $.44/ea when you buy 2.
Harris Teeter — This week's Harris Teeter grocery coupons will be up later today.
Trader Joe's – Healthy Life Deals shares this week's Trader Joe's deals, including Trader Joe's Organic Rice Microwave Bowl for $1.69, Country Choice Steel Cut Oats for $1.99, Blue Diamond Almond Breeze for $1.44, and Oregon Chai for $1.99.
Giant Eagle — This week's Giant Eagle deals will be up later today.
NEX – Military Wives Saving posts the best grocery deals at the Navy Exchange each week.
Grocery coupons – Get the latest grocery coupons from Coupons.com.
Redplum coupons – Get the latest coupons from Redplum.
New to coupons? Check out Bargain Babe's post on coupon clipping basics. If you want to take advantage of these deals, make sure to save the coupon inserts you receive in the mail or with your Sunday newspaper. Here's a great suggestion for how to handle coupon organization.
This post is copyrighted by BargainBabe.com. Any other site posting this content is violating the DMCA.