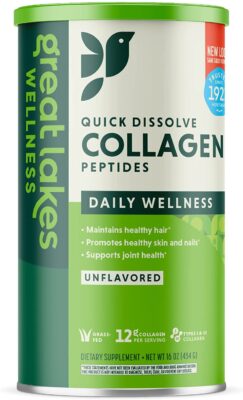 Not only have we been making gelatin products since 1922, but in 2009 we created the first cold-water soluble collagen hydrolysate (collagen peptides). Translation: we created the first taste-free collagen that could be mixed into any beverage, so health-conscious folks like you could enjoy drinking it. Get the Great Lakes Collagen Peptides Powder Supplement for Skin Hair Nail Joints – Unflavored – Quick Dissolve Hydrolyzed, Non-GMO, Keto, Paleo, Gluten-Free, No Preservatives – 16 oz Canister for only $18.36!
DAILY WELLNESS: For your daily routine, 12 grams of unflavored collagen hydrolysate per serving. Types I and III hydrolyzed collagen provide the amino acids necessary to support hair, skin, nail, and joint health.

HYDROLYZED FORMULA: An easy way to supplement collagen into your diet. Great Lakes Wellness Collagen Peptides Powder provides support for collagen production as we age. Good for men and women.

QUICK DISSOLVE: Collagen Peptides Powder is sourced from grass-fed bovine. Easily digested and absorbed by the body quickly for maximum benefits.

EASY TO USE: Daily Wellness Quick Dissolve Collagen Peptides is easy to add to hot or cold liquids. Perfect for coffee, tea, smoothies, or recipes.

MADE FOR YOU: iGen Non-GMO Tested, Paleo-Friendly, KETO-Certified, Gluten-Free, No Preservatives, Glyphosate Free, Kosher, and Halal. No added dairy, sugars, or sweeteners. Flavorless and odorless.
This post contains affiliate links.