Amazon has a couple great deals on essential oil diffusers right now. Both of these are at their lowest price on record!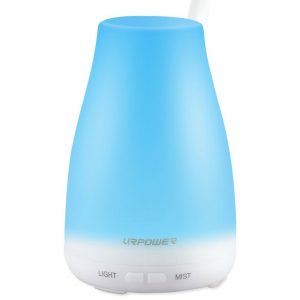 Urpower New Version: The Urpower Ultrasonic Aroma Essential Oil Diffuser is an upgraded version. The 2nd generation produces more mist than old version. An ideal way to add moist, comfortable air to small bedrooms, hotel rooms, tabletops and even workplace cubicles

Ultrasonic aroma essential oil diffuse is safe and does not harm the essential oil of any ingredients

Fight back against dry air. This stylish cool mist humidifier adds moisture to your air to eliminate dryness and help with your dry chapped skin, chapped lips and dry sinuses. Add a drop of your favorite essential oil to give your room a fresh, clean scent

Features include 7 color changing lamps for your choice, nightlight, programmable on/off cycles and auto shut-off: once the water runs out,it wil be auto shut-off to protect the device

Content: 100ml,Material: PP Hard plastic,Working time: up to 6 hours, Adjustable two mist settings:continuously and intermittently,Whisper-quiet operation won't interfere with your sleep

Lightweight & Exquisite: Bullet shape and Mini humidifier, easy to carry and low energy consumption.

Whisper-Quiet Ultrasonic Operation: Ultrasonic whisper-quiet, relieves depress and have a better sleep at night.

AUTO Shut-off Function: Once the water runs out, it will be auto shut-off to protect the device for safety insurance and energy-saving.

Aroma Humidifier Function : The humidifier function adds moisture to the air to help you sleep better, cough less and alleviate dry sinuses.

7 Changing LED Light: Features include 7 color changing lamps make your room romantic.
 This post contains affiliate links.